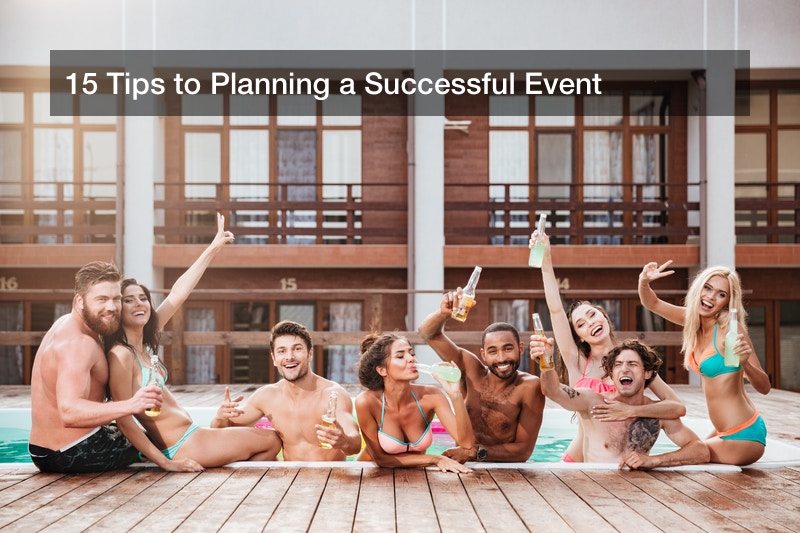 There's more to planning an event that choosing a table design and what dress you will wear. Successful event planning is a skill that many use in careers such as public relations, community outreach, and fundraising. A successful event requires you to use your skills not only to persuade people to come, but also to donate, make everything work, and most importantly: time management.
What is Time Management?
In event planning, time management is everything. Time management means being able to organize every single detail and part of an event, and making sure that every hiccup of an event is accounted for. To begin practicing successful event planning, it's important to know the basics of what goes into an event, and the timing of each of these things as well as problems that can arise. If you're in the event planning business, you can use these 15 tips to help plan for your next event. Whether you're helping one of the 2 million Americans that get married every year, or planning a club or other event, you can use them to do more research, which is key when planning, as well as help you get inspired.
1. PERT Charting
You might be asking yourself, what is a PERT chart? PERT charts are the first line of defense for event planning. PERT stands for the projected end result time chart, and they come in different forms and styles. A PERT chart helps you break down your event into the smallest components, make a list of all those components and what they need, and then assign each of them a different time frame. Using a PERT chart can speed-up the time it takes you to plan the entirety of your event, as well as account for possible setbacks, such as a guest re-scheduling or failing to show up entirely, setbacks in food or other delivery of items, and so on. Using a PERT chart is a highly customizable way for you to continue your successful event planning process.
2. Consider your Budget
The second-most important tip to follow for successful event planning, besides time management, is following a strict budget. A budget will have to be allocated ahead of time by your client, business, or another host of the event before any sort of real planning starts. It could be important to hire the help of an accountant to get your budget sorted out. Will you need to allocate a huge portion for a celebrity? What about promoting and hiring for digital artists and movers? Budgeting is essential, but can only be done once you make use of a PERT chart or other form of list to get down to the basics of your event. After making a solid budget for the event itself, consider having a pocket of savings in case any mishaps occur.
3. Consider the Host
Much of planning a successful event has to do with not only the event itself, but the style of the host. For example, say you're planning an event for a business. The old boss might have wanted to have a simple Christmas party. However, this new boss wants an all-out extravaganza, complete with a champagne fountain and weed delivery. Out of the ordinary? Perhaps, but the style of your client or host is essential to consider. The style of the host is the most important, as it's your job as an event planner to make them happy. Ask lots of questions, and don't be afraid to compare past events to new ones when dealing with a new client.
4. Take Photos Ahead of Time
Part of successful event planning involves advertising to social media, on flyers, and other hand-out materials. But, what if you don't have any photographs to advertise with? Instead of hiring an outside photographer, it can be easier to train one of your employees or assistants to take photographs for the event. A freelance photographer might re-schedule, not be available right away, have other events, and could even cause issues when it comes time to publish photographs. Claims to artwork can also cause you a setback. Whether you choose to train or use an in-house photographer or use a freelancer, it's important to plan your photographs ahead of time. For example, if you're planning for an event at a club, don't you want pictures of the first day, week, or month it opened? What about a wedding, do you have to take photographs beforehand of the lovely couple? Keeping these things in mind will help you be ready when the time comes to finally publish your event in advertising.
5. Think about Exposure
As mentioned above, many events today need to be advertised in order to get the word out to the public and have them attend. For your event, consider what form of advertising you'll use during your most successful event planning. If you opt for social media, will you need to hire a social media editor to advertise for you, or do you have one in-house? Will you hire a digital media artist to create flyers for your event? If you do decide to make hard copies of fliers for your event, consider custom printing to make your design for your event stand out. Remember to never leave these fliers inside of mailboxes, as this is illegal. However, custom printed flyers are a great way to get the word out there for your event, and can even be saved as tokens for event-goers.
6. Hire for Food
When planning for an event, food is a must-have, but it can be tricky for some event-planners to get just right. Consider the food likes and dislikes of your guests as a whole. When you're planning an event for a vegan festival, this is easy. But, what about for a wedding? Or a business party? It's essential to include food options very early on in the stages of your event planning, in order to make room for extra meals that people need, to order the food ahead of time, and to make sure you have the properly trained chefs to prepare such food. For instance, one chef might know how to make gluten-free Margherita pizza, but unfortunately, you forgot to hire him and went with a traditional Italian chef that sticks to the old way of cooking. As funny as these scenarios might be, it's essential to consider food early on and not leave it to the last minute, to make your event as inclusive and delicious as it can be.
7. Consider Indoor or Outdoor Seating
For any event, it's important to consider the setting and any weather conditions that may affect it. For instance, if you plan a beach wedding, will you have a back-up location in case it decides to rain? It's important to consider all options and have plans to move your guests in a timely fashion. This can even be in the form of having buses or taxis on stand-by in order to get your guests to safety. Or, have a nearby area such as a barn, bed and breakfast, or make-shift modern tent area to take your guests. Just the opposite, consider how planning an event indoors would be. Will there be enough seating to accommodate each guest? How early in advance must you reserve for your party? Asking all these questions and putting them into a budget can help you in successful event planning.
8. Custom-built Props
Any event can be made fun with the use of props. Giant floating rubber balls, a gazebo that is used a chapel, even props to play games with guests can all be useful. Talk to your client about using props, and budget to either buy these props outright, or have a contractor such as a carpenter design and build these props. Then, consider who will keep these custom-built props later on. Will your business be interested in keeping these design props for future events? Any discussions like this will help your event not only stand out by being unique, but also make it all the more beautiful, exciting, and fun for your guests.
9. Hiring a Celebrity
If you're planning on hiring a celebrity to attend your event, consider budgeting huge. For example, Snoop Dogg requires a deposit of almost $100,000 to simply attend an event! For most celebrities, their contracts will also require certain requests. These can range from simple food options, to having a stockpile of liquor, floral arrangements, you name it. As an event planner, you must be prepared not only to budget for your guest, but also to entertain them properly. Though it might be somewhat of a hassle and even expensive, having a celebrity at your event can do wonders for attracting an audience and making your event much more memorable.
10. Setting up for a Speech
When setting up for your event, consider if there will be a stage for a speech, dancing, or whatever other festivities your guests will take part in. Will there need to be extra microphones or television sets for your guests to hear your speaker? In addition, what is your audience interested in when your speaker is giving their speech? Planning a speech itself is an event all on its own, so it's important to consider this in addition to the physical location of your event setting. In addition, consider the technical aspects such as led lighting, sound systems, electrical outlets, and where they are, where your guests will be seated in relation to the stage, and other miscellaneous parts of planning for a speech or dance at your event.
11. Sending out a Press-Release
Sending out a press release can help you gain exposure to a bigger audience when the media gets involved. Part of successful event planning includes selling your event as a life-changing and once in a lifetime opportunity in order to get more people to come. This might not be as true for weddings or baby showers, but this is especially important for promotional events. Sending out a press-release and inviting the media one week ahead of time to ensure your event stays relevant, exciting, and gains free exposure in the news.
12. Transportation
Consider arranging transportation for guests at your event. This can be as easy as getting the services of a limo rental or party bus, and also having designated drivers. Most events will have not just food, but cocktails, and this is highly important to consider as an event planner. You'll want to make sure your guests are feeling safe, and are good to drive and get both to the event and back.
13. Costs for the Guests
Though we would like events to be free, such as those like wedding and office parties, consider if your guests will have to pay any costs. If you're setting up an event at a small coffee shop, perhaps a small fee will be able to allow guests to sit down and have an in-house tiny concert. Or, perhaps you're planning an event at a large club, and you must decide whether to give your guests half-off admission for an event to celebrate. Part of successful event planning is considering these decisions, and knowing they have a long-term and short-term financial impact on your business, so it's important to consider what these impacts will be when arranging costs for your guests.
14. Accommodations for Guests
Besides transportation, considering where your guests will stay is also crucial when successful event planning. Will your guests stay at a local bed and breakfast, or a nearby hotel that must have reservations made ahead of time? How many people per room will there be? These are more relevant when planning events such as weddings out of state, school and business trips, or even military accommodations for soldiers traveling out of the country. It's important to make arrangements and budget for possible accommodations ahead of time.
15. After-Math of Events
After an event, consider what the future of your event will entail. For instance, will you repeat this event in half a year? If you do, will you save the guest, food, and party rentals list from this event, or create a new one? What about any props, artwork, money raised, or food left over? Who will get a hold of these? It's important to think about clean-up and hiring for people to take down the set up of the event, as well as hire possible trash services for after an event. You'll be glad you budgeted for this ahead of time.
Have Fun
Whatever it takes for you to continue successful event planning, it's important to have fun with it. As an event planner, you will make mistakes, but you quickly can learn from these and move on to make better, more exciting, and life-changing events in the years to come.