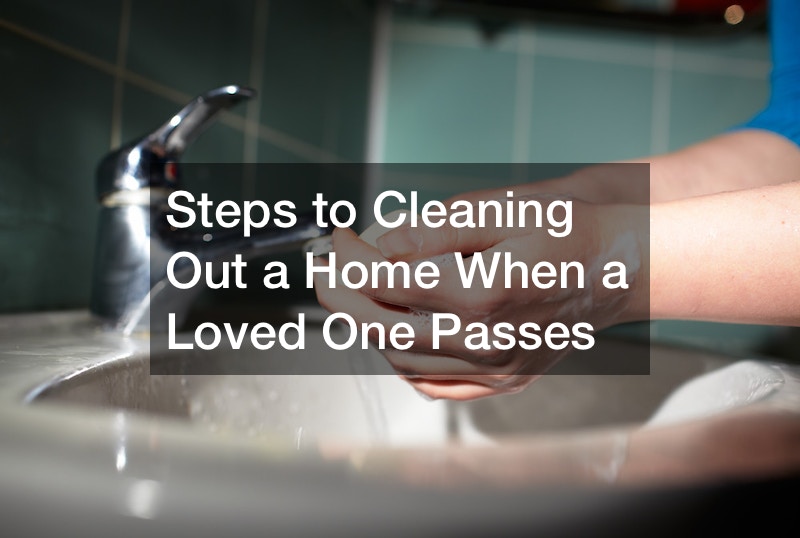 Estate cleanout is one of the hardest and saddest experiences after losing a loved one. However, it is a vital task that must be done. For one, it's part of the probate process – dealing with the deceased personal property. It can also be necessary if you're planning to sell or rent out the home.
According to Grief & Sympathy, estate cleaning can also help you deal with losing a loved one. For one, you can learn more about them during the cleanout and find mementos you can keep. While sad, parting with your loved one's belongings can also start the healing process. If you're planning to clean the home of a deceased relative or friend, below is a detailed estate cleanout checklist that can make the process easier.
Talk to an Estate Planning Attorney
Dealing with a deceased property is part of the probate process. As a result, you must follow the estate law when cleaning your loved one's home. This will ensure that you don't encounter any legal problems later on because of how you handled the cleanout.
One of the provisions of estate law is that you must have the legal authority to deal with your loved one's property. Therefore, you can only clean their home if you have inherited their property, been named as the executor, or have the necessary permissions from these individuals.
However, even if you have the authority to deal with the property, you must still wait until the probate process is complete, especially if the will is contested. Therefore, speaking to an estate planning lawyer should be one of the top items on your estate cleanout checklist.
If your loved one had a will, you should talk to their estate and trust administration attorney, especially if they had named you as a beneficiary. The lawyer can help you complete the probate process, giving you leave to start dealing with the property. You can also retain a probate lawyer to offer you legal advice on the disposal of any items.
Secure the Home
The days and weeks following the loss of a loved one can be hectic. And with your mind distracted, anyone with ill intentions can enter their former home and make away with valuables. And sometimes, other relatives and friends of your loved one can remove something from the house, which can still be a problem if the probate process is not over. So, given these issues, securing your loved one's home should be another essential item in your estate cleanout checklist.
One of the top ways to secure the home is to lock it up. However, given that other people (unknown to you) might have keys to the place, it's best to talk to locksmith companies and change the locks. For peace of mind, you should secure valuables, such as money and jewelry, until you're ready to start the cleanout process.
Securing your loved one's vehicle is also another vital task you need to carry out. If the home has a fence and gate, you can keep them on the property, but lock away the keys in a safe. Alternatively, you can move them to a secure storage facility until they are ready to be handed over to the proper beneficiary.
Find Essential Documents
During estate cleanouts, items can easily get lost, misplaced, or unintentionally thrown away with the rubbish. Unfortunately, this can be problematic if the lost items are vital documents. Therefore, finding and securing essential documents should be at the top of your estate cleanout checklist.
Some documents to be on the lookout include the last will, titles to the house, cars, and other properties, and insurance policies (home, life, etc.). You must also secure financial documents like bank statements and bill receipts. On top of that, you also need to find and secure other personal documents such as a driver's license, ID, social security card, passport, etc.
After securing these items, you then need to take appropriate actions. For example, in the case of the last will, you'll need to file it with the probate court. On top of that, you'll need to file an insurance claim with your loved one's life and health insurance companies. Other documents such as bank statements, bill receipts, and property titles will be used for the estate issues (such as debts and taxes) and transferring the property to beneficiaries.
Lastly, you should take care of your loved one's identifying documents such as driver's license, passport, and other IDs. To prevent identity theft of the deceased, keep these documents locked up where no one else can use them. You should also inform the issuing authority, who can instruct you on how to cancel them.
Remove Pests and Rodents
Your loved one's home can remain unoccupied for long after death. For example, the probate process might take too long. It's also possible you were not yet ready to handle their property. Unfortunately, according to PestWorld, an unoccupied home is a huge attraction for pests. Therefore, pest control is another vital task on your estate cleanout checklist.
Hiring exterminators is one of the best ways to deal with pests during an estate cleanout. This can be especially helpful when dealing with pesky problems such as mice, cockroaches, and ants. Some pests and animals, such as snakes, can also be dangerous. Lastly, hiring pest control specialists save you time, freeing you up to handle other tasks around the property.
Besides pests, you should also watch out for other hazards around the house during an estate cleanout. These include mold, mildew, asbestos, and lead paint – common in older homes. Like pests, you must hire a professional to remove these hazards safely.
Sort Out Through the Contents of the House
Sorting out the contents of your loved one's home is another item to tick off your estate cleanout checklist. According to Psychology Today, this can be a highly emotional experience. Therefore, you should have someone with you – like a friend, sibling, or other relative for emotional support. Having other siblings and beneficiaries can also be helpful as they can choose the mementos they want to keep. It can also prevent disputes in property distribution.
When sorting out the contents of your loved one's home, you should keep an inventory of everything. This will help ensure things are not lost during the cleanout process. The list can also be helpful during probate or when deciding what to hand over to each beneficiary.
Besides inventorying, you should also organize the contents into various categories. For example, you can have a list of items to sell, such as dining room furniture, appliances, and other valuables. Another important category is the mementos and valuables to be handed over to the beneficiaries. These can include pictures, books, jewelry, medals & trophies, and anything covered in the will.
Lastly, you can set aside items to donate. These include clothes, children's toys, books, kitchenware, furniture, etc. You can hand it over to organizations such as Goodwill, homeless & women's shelters, churches, charities, etc.
Dispose of Items Set Aside for Sale
Another essential item to check off your estate cleanout checklist is disposing of the items you want to sell. You can handle the sale of these items in several ways. For example, you can plan an estate sale to liquidate furniture, appliances, homeware, books, etc.
Another idea is to sell items through a pawn shop. These can come in handy when selling electronics, jewelry, watches, musical instruments, power tools, gaming consoles, etc. You can also sell antiques, art, coin collections, precious metals, and vintage items in pawn shops.
However, before you plan an estate sale or take your items to a pawn broker, consider having them appraised. This is because art, coin collections, rare metals, and antiques can fetch much more money than expected. Therefore, using an appraiser will ensure that you get a fair price.
On top of that, an appraiser might be necessary, or even court-mandated, for the probate process – due to issues such as taxes and estate debts. Therefore, you should ensure you get an accurate valuation of everything before selling. On top of that, you should keep receipts and records of everything sold.
Declutter the Home
When sorting through your loved one's belongings, you'll also come across various items you can't keep, sell, or donate. On top of that, you can find a lot of junk and debris lying around the home. Therefore, decluttering and junk removal are top items on your estate cleanout checklist.
You can handle the decluttering process in an estate cleanout in several ways. One of the top ways is to do it yourself. This can be especially helpful as you can double-check everything before throwing it away. If you opt for this technique, you should look for a roll off dumpster rental. This way, you can throw everything you don't need in the dumpster, then have it hauled away from the property when you're done.
Another top option is to hire a junk removal company. Junk removers can lessen your workload and help you clean the entire property, including the exteriors. Furthermore, some contractors offer additional services like sorting belongings and donation pickups. According to HomeAdvisor, junk removal companies charge between $60 and $700 to remove junk during estate cleanouts.
Deep Clean the Home
Even after removing the clutter in your loved one's home, it might still be in bad condition due to dirt, dust, and grime. Therefore, cleaning is another vital task you need to have on your estate cleanout checklist.
You can handle cleaning a property after a loved one's death in several ways. The first one is to do it yourself if you have the time. However, deep cleaning the entire place might be too much for you. The emotional toil of such a task can also be overwhelming, so you should consider hiring professional cleaners.
If you decide to use professionals, one of the top options to consider is a full-service estate cleanout company. These cleaners handle everything, from sorting through your loved ones belonging, identifying valuable assets, handling sales & donations, removing junk, and cleaning. This can be a great option if you don't have the time to carry the cleanout yourself or are not feeling up to it. According to HomeAdvisor, you can expect to pay between $1,250 and $6,000 for a complete cleanout.
Another excellent option for cleaning your loved one's home is to handle some tasks yourself and leave the most critical to professionals. For example, you can clean the floors, walls, and other surfaces, but hire oriental rug cleaning services for delicate rugs and carpets.
Repair and Renovate the Home
When settling your loved one's property after death, you can include repairs and renovations in your estate cleanout checklist. This may be necessary if you're going to sell or rent out the home. You can also repair and renovate the property if you've inherited it and plan to stay there.
One of the top repairs and renovations you can carry out is painting. You can spruce up the property by applying a fresh coat of paint to various areas, from the interior and exterior walls to the fence. The best part about painting is that it's affordable – according to Angi, the average cost of interior painting is 1,960 while painting the exteriors will cost you about $3,089.
Besides painting, plumbing & electrical repairs and renovations are other areas you can focus on. This is especially true when dealing with an older house with outdated plumbing and electrical systems. Depending on what will happen to the home, you can invest in other repair and renovation projects, including the floors, basement & attic finishing, roofing upgrades, kitchen & bathroom renovations, garage remodeling, etc.
Losing a hard one is hard; it can be even harder to part with their belongings. However, estate cleanout can help with the grieving process and helps with probate and settling the estate. So, if you're looking to handle your loved one's property after their passion, the above are some of the top items to include in your estate cleanout checklist.