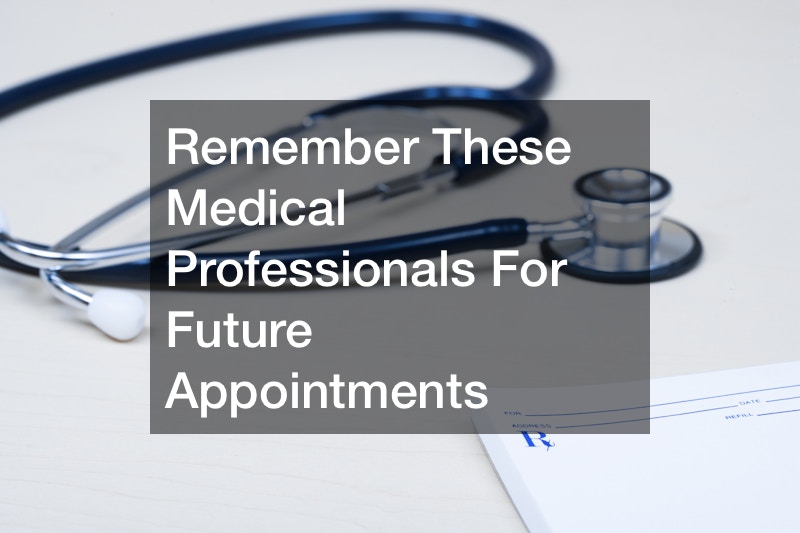 Being healthy is one of the most important things to consider when planning for the future. Think about it. You won't be able to take that truck you're hoping to buy once you get a promotion for a ride if you're experiencing serious health issues. You need the help of professionals who understand your body's various needs to ensure you always know what's going on. Below is a list of medical professionals you'll need for future appointments.
1. Dentists
Having your teeth checked regularly and maintaining an ongoing relationship with your dentist is essential. A regular checkup will help your dentist detect any issues you may have and provide preventive measures. They may spot gum diseases, oral cavities, and oral infections before they become severe and need extensive treatment. Hence, plan to schedule future appointments with your dentist after each visit.
A cosmetic dentist can also help enhance your confidence. While a general dentist will deal with oral health, prevention, and treatment, a cosmetic one goes beyond just being a general dental practitioner. They deal with improving the aesthetics of both your teeth and smile.
One of the aesthetic services they offer is teeth whitening. This procedure helps with the removal of stains on your teeth as well as discoloration. As a result, you get to have a bright and white smile.
After a few years of eating and grinding your teeth, discoloration, chipping, misalignment, or even gaps may result from wear and tear. You can get dental veneers to help boost your smile and overall appearance. These customizable thin shells are bonded to your teeth's front surface using composite resin or porcelain. You don't have to worry about how you look; visit a dentist and schedule future appointments to ensure you keep smiling without worrying.
You may also get dental crowns customized to your teeth to help cover any misshapen or damaged teeth. This process will help you as it protects your teeth from further damage and aids in the restoration of your appearance. To continue enjoying the benefits, schedule future follow-up appointments.
A cosmetic dentist can also recommend dental implants. This may be put in place due to tooth decay, dental injuries, or periodontal disease. This procedure involves surgically placing artificial tooth roots into your jawbone to help create a stable and strong foundation for your teeth.
For orthodontic treatment, such as braces to help correct tooth alignment, see an orthodontist. There have been improvements in brace technology as people are shifting from the traditional type and opting for newer options, such as clear aligners, which are more discreet. So, if you were worried about the 'nerdy' look often associated with braces, you now have an option. Book an appointment today to kickstart your journey towards achieving that perfect smile.
2. Psychologists
Mental health is an essential aspect of well-being. That's why you need the help of a psychologist or therapist. These professionals can be highly beneficial in helping you understand your mental and emotional needs.
They're trained to offer support and therapy for individuals struggling with anxiety, stress, depression, and other emotional issues. This may also include ADHD support. If you can relate to any of these, seek help.
A mental health therapist can help you by providing a safe and non-judgmental space where you can easily open up and express your feelings and thoughts. With an understanding of the stigma surrounding mental health issues, a psychologist will help you feel understood and validated while ensuring you're heard and supported regardless of the problem.
It's important to schedule an appointment with a psychologist if you notice various patterns affecting your mental health. These trained professionals can help identify key issues and provide guidance to help you develop coping mechanisms. This may involve recommending skill-building activities and techniques that help you manage stress, boost your self-esteem, and improve your overall communication. Note that seeing a mental health professional once won't work; schedule future appointments and make it a habit.
Psychologists also aid you in improving relationships, addressing trauma and experiences which may hinder your overall wellness. This is important to address as issues such as trauma may affect you from childhood through adulthood. A mental health therapist will help you delve into the issue and try to help you manage it from its root cause.
Be it a bad habit you picked up as a coping mechanism, a loss you went through that shifts your foundation or even a career change. All these affect your mental health in one way or another. If you find yourself slipping in any way, schedule an appointment and future appointments to get the help you need and prevent the escalation of issues.
3
. Facial Surgeons
You may wonder how having facial surgeons on your list will benefit your health. You could suffer facial injuries due to medical conditions, accidents, or injuries. This may necessitate reconstructive surgery to help restore your appearance and facial structure. Suppose you suffer from oral or facial trauma. In that case, a maxillofacial surgeon may easily step in to help repair facial fractions, reconstructive surgery, lacerations, and other injuries to help restore your face's beauty and functionality.
They can also help with corrective jaw surgery and dental implant placement. Given their experience, these professionals can help restore your jaw to help restore functions such as speaking and chewing and overall facial balance. For dental implants, a maxillofacial surgeon can help place implants safely and effectively in complicated situations where the bone may need grafting or sinus lift procedures. This will only be effective if you book in advance and schedule future appointments to ensure that the procedures are working efficiently
Facial surgeons are also recommended because they always offer a patient-centered approach to the issues you address with their help. They'll listen and work closely with you to understand the specific goals and concerns that you may have to custom-make your treatment plan. This approach will make it easier for you to trust them. Given that they're qualified professionals, they will also advise on what is feasible and what is not.
Some maxillofacial surgeons may also help with facial cosmetic surgery and cleft lip and palate repair, which will help boost your confidence and overall self-confidence. Scheduling future appointments with these surgeons is key to ensuring you continue enjoying the benefits.
4. Orthodontists
Be it an overbite, underbite, gaps in the teeth, crowded teeth, crossbites, or general oral health, orthodontists are the professionals to call. These professionals can help diagnose, prevent, and correct any irregularities concerning your teeth and jaws. An orthodontist can easily create a customized treatment plan for various dental issues to address your needs.
They will consider factors such as jaw growth, age, and misalignment severity to provide the most effective and appropriate treatment for your dental issue. This is crucial as a wrong procedure may end up causing more damage than good. Consider orthodontics for kids to help with early intervention.
They can identify and address various orthodontic problems in children at an early age. Early intervention can aid your child with guided proper jaw development and create space for the growing permanent teeth. This will also greatly reduce the need for extensive treatments, which may be more expensive. Take your kids in for an appointment when they reach seven years of age, and ensure you keep up with future appointments.
5. Plastic Surgeon
Plastic surgery has become more common globally, with more people gravitating towards it. However, without the right professional, this procedure can be hazardous. Qualified plastic surgeons can help improve your appearance and overall quality of life while prioritizing your safety and care.
Plastic surgeons can conduct various surgeries, including facial rejuvenation, where procedures such as brow lifts, eyelid surgery, and facelifts are common. Whether you want to look younger or want a slight facial adjustment, these professionals can help you increase your confidence and overall self-esteem. Cosmetic surgery is also becoming quite popular. It typically involves enhancing or reconstructing various body parts, such as breasts, for women who have undergone mastectomy, breast augmentation, liposuction, rhinoplasty, and even tummy tucks.
Go for skin tightening treatment if you have excessive hanging skin. Whether from losing excess weight or childbearing, a plastic surgeon can help curate an individualized treatment plan to help you attain your aesthetic goals and understand your needs. This may also involve body contouring procedures, which address specific issues with your body shape and contouring. A plastic surgeon can help you achieve your desired body silhouette and proportion. For the best treatment, seek the help of a professionally certified plastic surgeon for preoperative to post-operative future appointments to guide you to your desired goals.
6. Emergency Care
Having access to emergency care is crucial, as is knowing where to get it. As emergency care is not prescheduled like your other normal appointments, understanding and knowing the importance of when to seek it can save your life and help you avoid further complications.
During situations where your well-being may be threatened, such as heart attacks, strokes, severe injuries, or allergic reactions, prompt emergency responses can make the difference between life and death. Other conditions include acute asthma attacks, severe pain, uncontrollable bleeding from an injury, severe infection, or acute allergic reactions. Timely response and treatment are key to ensuring such complications don't escalate further. Once the problem has been mitigated, it is important to schedule future appointments to ensure you're recovering well
Having access to emergency care is critical if you have children. Emergency pediatric care may help minimize the long-term effects of a condition affecting children, toddlers, or infants who can't explain what is happening effectively. The earlier you seek treatment, the better the outcomes. You can mitigate the risk of permanent damage or even disability.
With continued seamless care in case of a preexisting condition such as acute asthma in infants, they may receive timely treatment to ensure a smooth transition to further care. Knowing you can access help for your baby 24/7 will give you much-needed peace of mind.
When there is an infectious disease outbreak, emergency facilities play a crucial role in helping with screening and managing patients to help identify those needing immediate medical attention. Emergency care facilities may also involve medical waste companies compliant with regulations surrounding the disposal of hazardous and infectious wastes to avoid environmental contamination and protect public health.
7. Veterinarians
Having a vet you can trust with your pet is essential. However, if you fail to keep up with future appointments and preventive care, even the most reputable veterinary clinic won't be able to deliver care effectively. Veterinary doctors can easily assess your furry friend, administer the required vaccinations, and even recommend preventative measures to help keep it free from diseases.
Early detection is key. Vets can detect symptoms of a potential issue before they become evident. This allows for proper treatment, which improves the outcome and mitigates disease progression.
A vet may also play a vital role in helping you plan your pet's or animal's diet, including food and water. They can also recommend the right water purification system and lighting for animals like chickens. The small details matter as this will determine the health of your animals or pets.
They may offer pet or animal education so that you know how best to care for them. This helps you, as an owner, make well-informed decisions for the well-being of your animal. This is crucial as pets tend to stay in the house with you most of the time. You need to know how to manage them, including their behavior.
A veterinary clinic may also offer end-of-life care. This is normally a hard choice, especially if it's an animal or pet you've had for a long time. However, a vet can offer compassionate care and support during such times.
Working with medical professionals is the only way to guarantee you'll move through life with optimal health. Take your time to establish your unique healthcare needs and use that information to research the different experts you need. You need people in every profession in your corner and schedule regular appointments if necessary. Always develop a personal connection with your doctors; it'll make your future appointments much easier and keep you in better health throughout your life.