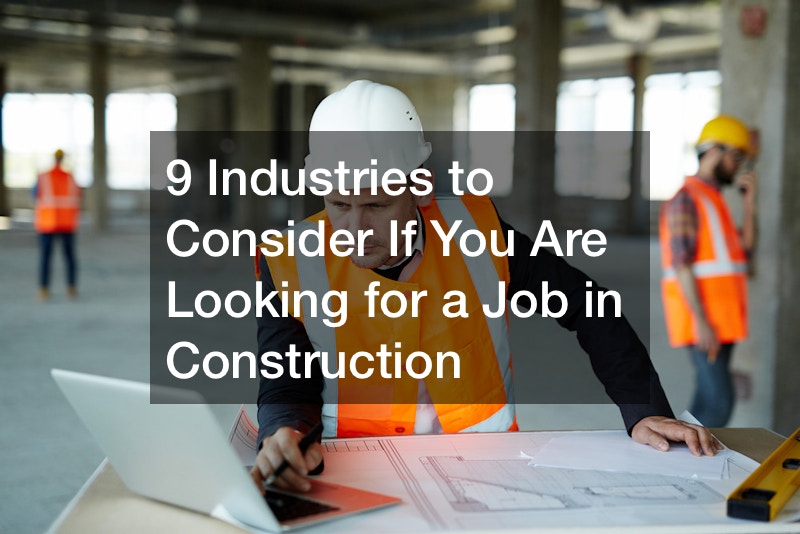 Are you seeking employment in the construction industry? Well, you've come to the right place! The construction industry is more than just hammers and nails; it offers countless opportunities for rewarding careers. It does not matter whether you love operating giant machines or constructing modern structures; the construction industry has something for everyone. In this article, we'll explore nine exciting industries within construction that you should seriously consider. So, get ready to learn about outdoor construction jobs that can lead you to a fulfilling career. Let's dive right in!
1. Construction Equipment Manufacturing
Manufacturing construction equipment is a thriving industry that provides many outdoor construction jobs. According to MarketsandMarkets insights, the global market for construction equipment is anticipated to grow from $80.4 billion in 2022 to $223.1 billion by 2027. The main factors driving this growth are the demand for cutting-edge equipment to increase construction productivity and efficiency and the expansion of infrastructure development projects.
The construction equipment includes earth-moving machines such as loaders, bulldozers, and excavators, and material-handling equipment such as forklifts and hoists. If you have a spoilt passion for construction and automotive, consider joining a construction vehicle industry that makes tippers and dumpers.
Also, you should consider joining a fiberglass fabrication company. Fiberglass is becoming a preferred material in construction due to its lightweight, strong, and non-combustible features. You will be involved in constructing roofing and insulation materials. Due to the rising global demand for construction equipment, companies in the construction equipment-making sector are constantly looking for qualified personnel to meet the sector's demands. Anticipate a stable job market with professional development prospects.
2. Landscaping and Groundskeeping Services
A thriving area that offers a variety of work prospects for people interested in outdoor construction jobs is the landscaping and groundskeeping services industry. The market for landscaping services worldwide is anticipated to grow by USD 6.60 billion between 2021 and 2026, according to Technavio. The increase in demand for properly maintained outdoor areas in private, public, and commercial locations is driving this expansion.
Landscaping and groundskeeping projects involve maintaining golf courses, parks and gardens. Essentially, you will work with excavating contractors, landscape designers and municipals to design outdoor space. You will help create beautiful and appealing gardens and backyards. Your duties will include planting and maintaining trees and flowers, caring for lawns and trimming hedges. You will be expected to identify insect problems and plant diseases, remove weeds and apply fertilizer and pesticide.
As consumers demand appealing and cozy outdoor space, installation, and upkeep increases, the need for qualified specialists in this sector is rising. The good news is that you can become a groundskeeper with on-site experience. Expect a salary of between $30,000 and $40000.
3. Water Industry
Water is life, and we need water services for residential and commercial use. Jobs in the water sector are always in demand, making it a compelling industry to consider for outdoor construction jobs. Your work will range from dam construction to well drilling. According to the World Bank, 50% of water for domestic use is sourced underground. You might travel a lot to different locations to construct and service water towers.
As mentioned, one of the jobs in this industry is providing water well drilling services. People use these wells for residential, commercial, and agricultural needs. You can contribute to maintaining sustainable water resources and ensuring a steady water supply for communities by working in the water well drilling service industry.
The water sector also provides other potential opportunities for work. There is a constant need for qualified people in water-related fields due to the expanding population and the requirement for adequate water infrastructure. From water well drillers and technicians to hydrologists and residential plumbers, there are many ways to support the development and sustainability of the water industry.
The qualifications vary. For instance, you need post-secondary education and job training to work as a plant operator. You'll also need certification and licensing. For a water system career, you need a degree in an engineering program accredited by ABET and pass the Principles and Practice of Engineering (PE) exam. According to the American Water Work Association, senior water systems operators in large utilities earn over $59000. You can significantly contribute to ensuring access to reliable, clean water resources by pursuing a career in the water business.
4. Fence Installation and Services
If you fancy outdoor construction jobs, become a professional service provider in the fence installation sector. You will have a chance to work outdoors in residential and commercial properties. According to Research and Markets, the size of the worldwide fencing industry is expected to reach USD 44.39 billion by this year. A booming real estate development and growing investments in the construction sector by public and private organizations are boosting demand for physical safety and security solutions.
Due to the ongoing need for fencing solutions, companies constantly seek qualified personnel to fill positions. This promising employment outlook indicates a dependable and expanding sector that offers promising long-term career opportunities. Your job scope will involve offering fence solutions to meet end-user needs that are constantly changing due to increased security breaches and the resulting need for novel safety and security solutions. Specifically, you will handle measurements, dig holes, install fence rails, and undertake maintenance and repairs.
You can benefit from job security and chances for professional progress in the construction industry by joining a fence company. Additionally, this sector offers room for creativity and innovation in creating distinctive fencing solutions catering to customers' requirements and tastes. You don't need form education. You are good to go if you have a GED certificate or high school diploma and stamina. According to Zippia, you'll rake in $18 per hour working as a fence installer.
5. Construction Industry
According to The Associated General Contractors of America (AGC), the construction industry has a major economic effect. The sector employs more than 7.6 million people, has over 745,000 employees, and builds structures worth nearly $1.4 trillion annually. Population expansion, urbanization, and the demand for sustainable building techniques are among the factors that contribute to this rise.
The industry has numerous job opportunities, ranging from project managers and human resources to engineers and construction workers. You can also offer crane services to safely and efficiently lift massive equipment and materials. Other typical career paths in the construction sector include project management, field supervision, and craft-oriented outdoor construction jobs like carpentry, concrete finishing, local concrete pumping services, local excavation services, and heavy equipment operation.
Additionally, this sector offers professional growth opportunities and the chance to participate in significant construction projects. According to the US Bureau of Labor Statistics, construction workers take home $22 per hour. If you're seeking a fulfilling job in construction, consider exploring your options within the sector.
6. Crating and Packaging Services
The construction sector's vital crating and packing services sector provides various employment options. The size of the global packaging market is anticipated to increase from USD 1,098.81 billion in 2023 to USD 1,333.02 billion by 2028, according to Mordor Intelligence. This growth results from increased trade activity, the expansion of e-commerce, and the demand for efficient and secure packing solutions.
Local crating offers specialized packaging and crating services for goods, including construction supplies, machinery, and products. Professionals in this area create custom crates and packaging materials, ensure that products are appropriately protected, and plan logistics for shipping and storage. You contribute to the secure storage and transportation of construction supplies by working for a local crating company, preserving the materials' integrity throughout the construction process. Other job opportunities range from quality control professionals to logistics coordinators, crating technicians, and packaging designers.
Working for a local crating company will help you develop specific skills in crate construction, packaging methods, and quality assurance. For this industry to meet client needs and guarantee the secure delivery of building materials, it also calls for attention to detail, problem-solving skills, and good communication. If you're searching for a fulfilling job in construction, consider looking into the opportunities within the crating and packaging services sector.
7. Basement Waterproofing Industry
Within the construction business, the basement waterproofing sector is an essential one that presents excellent outdoor construction jobs. According to Emergent Research, the global basement waterproofing market is anticipated to reach $82.29 billion by 2027. The increase in demand for efficient basement drainage systems and the need to minimize water damage are reasons for this growth.
Basement drainage systems services help prevent water damage in residential and business basements. Working in this industry gives you the expertise to implement efficient basement drainage systems and preserve indoor environments. The basement waterproofing sector additionally provides stability and job security.
Homeowners welcome preventative measures to prevent water from getting into their basements. This means the demand for basement drainage system services will remain high. This promising job outlook indicates a growing and stable sector with promising long-term career opportunities. You can reap the benefits of job security and chances for professional advancement in the construction industry by pursuing a career in basement drainage system services.
The basement waterproofing sector also offers specialization and skill development opportunities. To minimize water damage and mold growth, experts in basement drainage system services evaluate water issues, put appropriate drainage systems in place, and conduct repairs. This field necessitates knowledge of waterproofing procedures, comprehension of foundation systems, and expertise in installing sump pumps, drainage systems, and waterproofing materials.
8. Solar Energy Sector
An array of outdoor construction jobs are available in the fast-expanding solar energy installation sector. Solar energy has significantly increased in popularity due to the global focus on clean and renewable energy sources. Professionals specializing in solar energy installation are vital to developing sustainable and clean energy sources since they install and maintain solar panels and systems.
Furthermore, many outdoor construction jobs and a promising job outlook exist. This is because there is an increasing need for qualified experts in this industry as the demand for solar energy systems rises. Numerous career choices are available in this industry, from system designers and project managers to solar panel installers and technicians.
Professionals installing solar energy systems do site evaluation, panel installation, electrical connections, and system testing. Additionally, this sector offers opportunities for lifelong learning and keeping current with solar technological developments, such as energy storage and smart grid integration. If you're searching for a rewarding construction career, consider the opportunities available in the solar energy installation sector.
9. Electric Power Industry
The electric power industry is an ever-evolving sector that powers our modern world with innovation and efficiency. This industry is essential for producing, transferring, and distributing electrical energy to homes, businesses, and industries as a society depends more on power for daily tasks. If you want a career at the forefront of energy transformation, the electric power business provides exciting opportunities thanks to its dynamic environment and ongoing technological advancements.
The electric power sector has substantially expanded and diversified in recent years. According to the International Energy Agency, factors like population growth, urbanization, and rising demand for dependable and sustainable energy sources will cause the worldwide capacity for renewable electricity to increase by more than 60%. The electric power sector provides a variety of employment options in many industries.
Jobs in this field involve managing smooth electricity delivery, from power generation and transmission to distribution and customer service. Power plant management, developing renewable energy projects, building transmission lines, grid maintenance, energy trading, and energy efficiency consulting are some of the specializations available to professionals in this sector.
Additionally, the sector provides chances for research and development, where you can aid in exploring brand-new energy sources, energy storage innovations, and grid resilience solutions. The electric power business offers many employment possibilities that cater to various interests and skill sets, giving you rewarding and impactful career paths.
Clearly, the construction industry offers many opportunities as the global economy thrives and expands. This industry offers various outdoor construction jobs, from soaring skyscrapers to renewable energy options. Whether you want to work on hands-on construction, technical infrastructure, or artistic design, the construction industry has something for you. Explore the nine sectors in this guide to take the first step toward an exciting and fulfilling career. Your dream job in construction could be just around the corner!