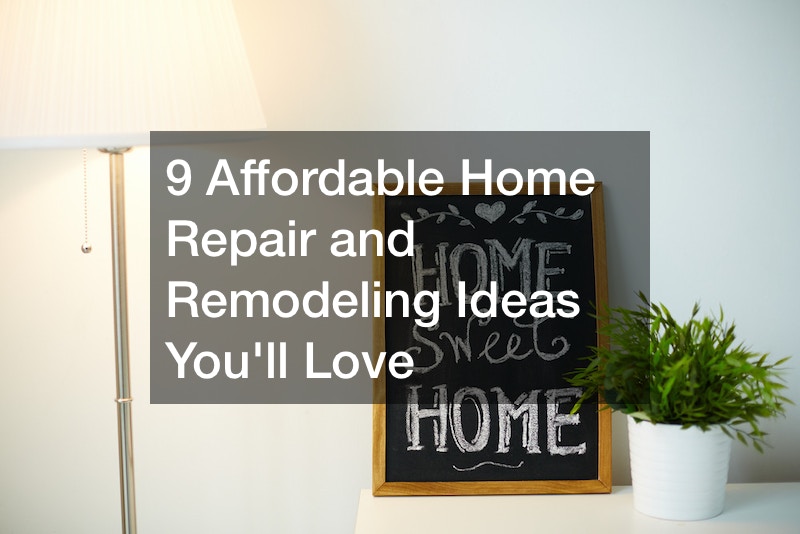 According to the Joint Center for Housing Studies of Harvard University, remodeling and repairs in owner-occupied homes increased from $328 billion in 2019 to $472 billion in 2022. Moreover, it was estimated to reach $485 billion by 2023. Considering this study, homeowners have developed a renewed interest in home improvement over the past few years. Would you like to give your home a new look? Here are 9 affordable home repair and remodeling ideas you'll like.
1. Remodel the Kitchen
SWNS Digital reported that Americans spend over 400 hours in the kitchen each year. An adult spends about 67 minutes in the kitchen daily. This was a survey conducted on 2000 Americans about their family cooking habits. The survey shows that the kitchen is the heart of a home.
77% of the adults say they cooked with their family at least once a week when growing up. Many Americans have kitchen memories as their favorite. 3 in 10 of the Americans said cleaning up the kitchen was their favorite task.
Since you spend most of your precious time in the kitchen with the family, you must remodel the kitchen to make it family friendly. Some of the affordable home repair and remodeling parts of a kitchen are the cabinets, walls, and countertops. A kitchen island is another area you can upgrade at a lower cost.
Cabinet refinishing improves the home value because it occupies a larger space. Additionally, it creates a look and a feel that can attract a buyer. Cabinets give a wide range of options when it comes to finishes and colors. Typically, a new cabinet can cost $8000 to $12000 and refinishing costs half of the price.
Kitchen islands increase counter spaces for smaller appliances. They also offer additional spaces for utensils storage and seating options. Islands create a defined space for the family if you love spending evenings in the kitchen.
Finally, kitchen repainting gives the kitchen a beautiful look as well as adding the home's value. According to Forbes, you can pay a house painter from $20 to $50 for a basic paint job. On the other hand, if you are quoted, you can pay from $200 to $500 per day. Repainting labor has a wide range of options because you can pay per square foot or per room.
2. Repaint or Accent the Wall
Refresh the whole house with a fresh coat of paint. Paints take from 5 to 10 years before they start fading. In fact, exterior paint fades faster due to sunlight and UV rays exposure. However, you can repaint the front wall if you are on a budget.
If repainting the house is expensive, depending on your budget, you can opt for a more affordable home repair and remodeling task to change the wall's look. Create an accent wall, and you'll note a significant difference. At first, experiment with a peel and stick wall paper around the living room or your bedroom.
Luckily, there are many options for the peel and stick wallpapers in various online stores. As such, if you make several video meetings at your home, you'd want to install the peel-and-stick wallpaper around your home office or the living room. Accent walls are easier to maintain because you only need to wipe them. Another benefit of the accent wall is that they're easy to install.
3. Install a Drywall
Another affordable home repair and remodeling idea is adding drywall to partition the house. Some homes have kitchens joined with the dining as a hall which does not create a good look at times. As such, you'd want to add a temporary wall; the drywall and some wooden frames are the better option.
Drywalls are made of calcium sulfate dihydrate and can also be used as ceilings. Sometimes, you can install a drywall as a ceiling rather than investing in expensive ceiling materials. Residential drywall services are widespread, so you'll get the material with the help of a drywall repair company.
Luckily, drywall is easier to install and experts come with painters to offer priming and painting services as a package. Another benefit of the drywall is the uniform finish. After priming and repainting, it forms an appealing uniform finish.
Drywalls are fire resistant because the gypsum used makes the material less flammable. This saves your home in case of a fire incident. Additionally, drywalls are mildew resistant because they have fiber plasticizer, foaming agent, and other additives that prevent mildew.
4. Upgrade the Bathroom
A bathroom upgrade is a major and affordable home repair and remodeling project you shouldn't skip. According to a Daily Infographic report, people spend more time in the bathroom than it's believed. In their report, men spend about 855.8 days in the bathroom on average. That's 2 years and 125 days of their life.
On the other hand, women spend about 770.8 days in the bathroom on average. That's around 2 years and 40 days of their life. The Infographic breaks down those days with time divided as follows:
Men
Women
Both men and women spend 88.5 days drying themselves. That aside, a bathroom is a vital house room that needs some remodeling after some time. So, perform that popcorn ceiling removal to get rid of the outdated ceiling and refinish your tub rather than replacing it.
Afterward, install new sink faucets because hard water damages them with time. This will save you the water bills as a result of leakages. Install prefabricated showers and paint the interior. However, if you need some plumbing in your bathroom, consider high-quality pipes because bathrooms are moist.
5. Do the Flooring
Flooring isn't an affordable home repair and remodeling project. So, don't think you can easily rip up your old flooring and fail to spend thousands of dollars to install a new one. That said, figure out the most affordable ways to improve your flooring without breaking the bank.
One most common project that homeowners do is to repaint the concrete flooring. Concrete floors are easier to maintain because a local painter can help you fill some floor holes and repaint them at an affordable cost. These floors are a one-time investment if you maintain them well. Concrete floors are also fire-resistant.
Another affordable home repair and remodeling trick is to install a floor carpet. Ideally, choose a carpet that is slip resistant and easier to vacuum the pet's hair and dust from the outside. Luckily, you can get carpet experts at a cheaper cost to do the floor carpeting project. First, experts will measure the floor and gather the materials.
Secondly, they will clean the room and install the tack strips to hold the carpet in place. If the floor has holes, you need to fill them with latex floor filler or other materials. Afterward, install the carpet underlay to prevent the carpet from rippling and bunching up.
Finally, cut and lay your carpet on the floor. Add an extra 6 when cutting because cutting it too short will waste the entire strip. Ensure you apply the adhesives between two carpet strips and line up the seaming tape under the carpet to make the surface uniform. Clear the mess and enjoy your home with a new floor look.
Vinyl tiles are an affordable home repair and remodeling idea for the floor you can use as the last option. You should do this if you find it necessary to rip up your old flooring. The tiles can cost from $3 to $5 per square foot.
6. Renovate the Garage
The garage door is the most overlooked part of a home. Most homeowners welcome the guest to the patio or inside the living room without noticing the garage. But for sure, renovating the garage door can increase your home's curb appeal.
Start by repainting the door because fresh paint that matches your house will change the overall look. Secondly, check the door balance by pulling the handle to disconnect the carriage from the chain. Then, open the door halfway to confirm it stays in place.
A garage floor coating will give your garage an aesthetic look. However, floor coating is not only for aesthetics. Granite floor coatings are easier to clean, especially during winter when the car wheels collect salt and grime from the road.
Concrete garage floors are stain resistant, while flake floors are slip resistant. Luckily, some companies may offer lifetime warranties after the garage floor repainting project. However, choose your garage flooring and paint depending on your area's weather because some paints may fade quickly.
7. Improve the HVAC System
If your HVAC is old, you should perform an indoor air quality assessment to develop a long-term solution for your health and safety as a family. A new HVAC system will enhance good health by cleaning the indoor air, especially if you have elderly people and children around. Additionally, it helps to reduce the effects of air contamination by the pet's hair in the room if you don't perform regular vacuuming.
Secondly, upgrading the HVAC system will heat and cool the home without much effort. Older HVACs over 10 years are more likely to work harder and experience regular failures due to wearing internal components. Third, an upgraded HVAC system will save you the energy bills. The latest systems heat and cool homes faster and more efficiently.
Additionally, new HVAC systems are equipped with high technologies which allow operating them from the comfort of your couch. The units make less noise compared to the older units and they release clear air to the house. This is very beneficial for people with allergies and asthma.
Finally, a new HVAC system will increase home value is you plan to sell your home soon. Home buyers look for the HVAC system as one of the first items when inspecting a home for purchase because they dont want to spend . An HVAC system can cost from $5000 to $12500.
8. Swap the Furniture
A simpler way to increase your home's value is to fit it with the appropriate furniture. Ideally, swap older furniture with second-hand ones that give the exact look you need. For instance, you may need wooden furniture with metallic legs to prevent pets from chewing them.
Second hand furniture sales are conducted whenever there are apartment clean-out services. You will also come across various furniture by the roadside as owners put them for sale. In fact, a 2016 statistics by Statista revealed that 40% of the respondents purchased or imagined themselves purchasing second hand furniture.
Straits research also revealed that the Global second-hand furniture market was valued at $29.80 billion in 2021. It's projected to reach $58.58 billion by 2030. From 2022 to 2030, that's a CAGR of 7.80%, so many homeowners are considering second-hand furniture over new ones.
However, if you want to purchase second-hand furniture at an affordable cost, visit the nearest second-hand furniture store. Most businesses do online advertising, so searching "second hand furniture near me" will help you identify the stores faster. You might be lucky to get offers and free delivery if you purchase these bulky items from a single store.
9. Spruce Up Your Front Door and Mudroom
Sprucing up the front door and the mudroom is the last affordable home repair and remodeling idea you must learn. The front door is prone to elements and also regular use can accelerate fast wear. Once the varnish wears off, it exposes the wood to rain and sun.
Replace the front door with a low-maintenance material or refinish it. On the other hand, the mudrooms are notoriously hard to maintain their cleanliness. These are the rooms the family pulls things together as they head outdoors. Vinyl flooring works best for the mudroom.
Get the correct measurements and install vinyl because it's easier to clean. You can also use the vinyl flooring for your laundry room. Additionally, get eco friendly house paint for the mudroom because children and pets love playing around the mudroom.
There you go! These 9 Affordable home repair and remodeling ideas will completely change your home value and look. Remember to perform a thorough research about material sourcing and hiring professionals for your project. Ideally, visit the manufacturers to purchase material on offers and get warranties—all the best as you plan to give your home a new look.