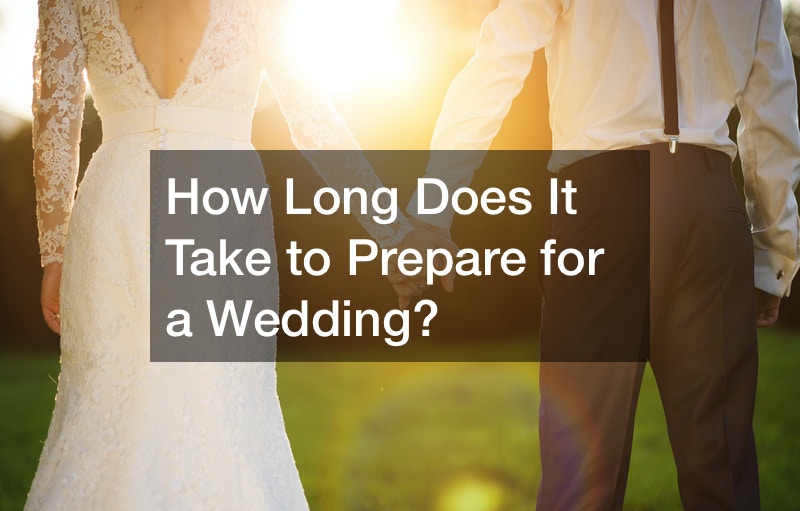 How long does it take to prepare for a wedding? Weddings are a beautiful celebration of love, family, and friends, but they can take an enormous amount of time to plan. From the engagement party to the honeymoon, planning a wedding involves many different aspects that each takes time to complete. These are some major steps involved in planning weddings today, along with how much time is generally spent on each aspect.
A wedding is a very anticipated and emotional life event. It can take many months to plan the smallest details of the ceremony and reception. Sorting out who is walking with whom, what kind of bridesmaid dresses to get, which medical spa to have the facials, and where everyone will be sitting for dinner are just some of the things that need to be planned to ensure it goes off without any problems or hitches.
Planning must be done to ensure everything runs smoothly on a special day. Dates must be considered when booking wedding venues because popular dates (e.g., Saturdays) book up quickly; locations also fill up fast for special occasions like New Year's Eve parties or Valentine's Day dinners, which may clash with wedding plans. In addition, the guests must be accommodated with room accommodation and transportation to and from the wedding location. So, how long does it take to prepare for a wedding? Here are different aspects of a wedding you need to look into:
Meeting With Officials
The planning of a wedding takes at least one year, and the process varies depending on the type of ceremony and location. First, couples must meet with their officiants to agree on all details for the wedding, such as date and time. They may also need to schedule backups, such as in case of weather or other unforeseen circumstances. The couple should then consult with their family members to determine who will be responsible for each task, such as arranging transportation or hosting guests. This is just a portion of what needs to be planned; there are many more components that go into planning an event like this, which include: selecting a menu, finalizing a guest list, booking a band/DJ/entertainment group, tent rentals, etc., determining a budget and setting up a payment plan, booking a venue and hiring the vendors, selecting the bridal party, sending out invitations, setting up flower arrangements or decorations for the ceremony and reception, having engagement photos taken, etc. The wedding planner should be brought in as early as possible to help coordinate everything from start to finish.
When Do You Need to Book Your Wedding Date?
Another aspect of determining how long does it take to prepare for a wedding is the date of the event: the earlier, the better. If you wait too long to book your venue, it could be gone when you are ready to decide. Plus, many venues have limited dates available. Getting married on Friday or Saturday night can also complicate things because some professional vendors are already booked for the weekend. So, they might not even show up when you call them about an engagement shoot or bachelorette party.
Also, note that if your ceremony is in a different location than where the reception will be held, you will need more time to plan things like transportation and to decorate before the big day.
Engagement Party
An engagement party typically happens after the couple has already set a date for their big day. This social gathering gives friends and family members who do not live near the couple a chance to celebrate and meet before the wedding. This can be an extravagant or casual event, depending on how much time and money the bride wants to put into it.
One aspect of determining how long does it take to prepare for a wedding is engagement, which usually lasts about three months. During this time, it is common for couples to be busy with their upcoming nuptials and not think about planning anything else, such as family dinners or vacations. There may also be an added pressure of selecting an expensive ring.
To help reduce the duration, couples should start immediately after making their engagement official and organizing a date. After deciding on a date, couples should begin thinking of what they would like for their wedding, such as having it in a park or a church and then decide on the reception site.
The Bachelor and Bachelorette Parties
Another aspect of helping you determine how long does it takes to prepare for a wedding is the bachelor and bachelorette parties. During this time, the groom and bride's friends throw a party to celebrate their upcoming nuptials. To help reduce the duration, couples should be selective about who they invite since there is likely no need to make 100% of people feel included. Additionally, they should ensure that everyone will have fun with activities at the party – from out-of-the-ordinary adventures to low keyboard games.
Bridal showers are typically thrown by friends of the bride, not family members. Sometimes there are co-ed parties with both men and women invited, but they are usually just female guests. Today's bridal showers tend to have themes that fit into one of three categories: intimate gatherings or surprise parties for close friends or family members only, bigger celebrations open to all ages of female guests hosted by coworkers or neighbors, or bigger bashes by hundreds of guests meant as public announcements of the engagement. All bridal showers typically include gifts for the bride to open, but they can take place at any time from a few months before to even after the wedding date.
How Early Should You Choose Your Dress?
To find out how long it takes to prepare for a wedding, you need to have everything set for the big day. It is recommended that you pick out your wedding dress about twelve months before the date. This will give enough time for any customizations or tailoring if needed and also allows enough time for alterations if any adjustments need to be made.
You should start looking for your dream wedding dress as soon as possible! Most bridal shops will require at least three months' notice if you plan to buy your gown from the store. You will need this amount of time to pick out a sample and for the designer to make any customizations or modifications if needed. If you are planning on ordering your dress online and having it made especially for you, give yourself at least six months' notice before your wedding date. This will allow the company enough time to create and ship your gown in time for your special day!
Wedding planning usually starts about one year before the day of the wedding (if not earlier), and tasks such as registering for gifts, choosing invitations, and arranging the honeymoon can take place even sooner than that. Usually, these aspects of a wedding are planned by mothers or other family members without much input from the bride and groom.
The rehearsal dinner takes place on the night before a wedding or sometimes even earlier during the day, depending on what works best with an individual couple's schedule. It is typical for bridesmaids' dresses to be ordered four months in advance because they are so time-sensitive.
Similarly, groomsmen may order their tuxedo rentals around three months ahead of the wedding because they need to find out if suits are available in their size. Grooms often choose their ties two months before the wedding, and brides often pick bouquets three weeks before the ceremony.
Guest Invitations
The other aspect of determining how long does it take to prepare for a wedding is guest invitations, which usually last about eight weeks. During this time, friends and family are sent invitations to the wedding. To help reduce the duration, couples should work with their guest list in advance to ensure they only invite people. They should then send out their invites far in advance to plan time off when it is easiest for guests. Along with the invite itself, couples should also include important information such as the date and time of the ceremony, address of where it will be located, dress code for men and women, the web address where guests can find out more about what to expect at the wedding and RSVP details.
During this time, couples send out their formal announcement to people they are inviting. To help reduce the duration, couples should order these invitations early: at least two months beforehand, so there is enough time for them to be mailed and they do not have a lot of delivery fees. Couples may also want to have friends and family members hand-deliver invites/maps so they do not get lost in the process and guests know exactly where they need to be.
Reception-Related Elements
It is important to book all reception-related elements like catering, cake, music, and photography. These are typically booked between six months to one year in advance, depending on how busy the vendor is. The next thing to determine how long does it take to prepare for a wedding is the ceremony site, which can be selected up to a year before or after setting a date due to availability constraints. Depending on the location of your favorite restaurants or venue, there may also be limitations regarding the time of day. It is generally easier to select this option first if the desired date and time are flexible.
Couples who want their wedding to reflect personal touches or unique preferences should give themselves plenty of time working with florists and other vendors. Some unique ideas (landscape-themed centerpieces using local plants or custom printed table numbers) can take weeks to create, whereas other requests (bridal bouquets with pink roses) are more straightforward. You may also embark on aging your own whiskey for the big day. The choice is all yours!
Flowers are an essential part of any wedding, and most couples send out invitations weeks ahead, so guests may mark the date on their calendars and start making travel arrangements if needed. Most flowers must be ordered at least four to six weeks in advance, depending on availability. Many florists also require a down payment before ordering anything: even just a few dollars to set up reservations for flowers. Hiring a band can also take several weeks since they are in high demand during the summer. Many bands will not book engagements unless at least six months in advance, so couples should secure them early on to have their first choice of musicians.
Since the wedding is the day when everyone gets together, it is important that everything goes smoothly and people stay organized. It is also helpful to have someone who can help keep track of specific tasks that need to be done since there are certain timeframes in which things must be done. For example, invitations usually must be sent out four to six weeks before the wedding, so guests have plenty of time to make travel arrangements. A wedding day schedule can help, so people know what time they need to be where. If you are wondering how long does it takes to prepare for a wedding; it is vital to note that a wedding can take anywhere from a day to 11 months to plan.
With so much at stake, it is no wonder many couples begin planning their wedding one to two years in advance. Some brides and grooms prefer a smaller, more intimate affair, while others yearn for a large celebration filled with hundreds of guests and extravagant details. A wedding has many moving parts that must be considered simultaneously: food and seating, music and entertainment, decorations and flowers, invitations and RSVP cards, photography and videography: the list goes on! This is why most couples choose to start planning about a year in advance: it is enough time to save up enough money for all of the essentials without feeling like they are missing out on important moments along the way.
For anyone wondering how long does it take to prepare for a wedding, it is important to know everything you need to do. Engage the right jewelry appraiser for your ring engraving process at the right time. To avoid being overwhelmed by the details of planning an event as large as a wedding, many planners suggest breaking down the process into smaller parts. Poor planning may easily lead you to the hands of a divorce lawyer seeking to divorce due to pressure resulting from the wedding event. Look into all aspects keenly before the final wedding day. With this approach, couples should take one aspect of the wedding and plan it all the way through before moving on to another aspect. That way, you will probably feel less stressed if you spread out your tasks over several months instead of having them land on your lap all at once.