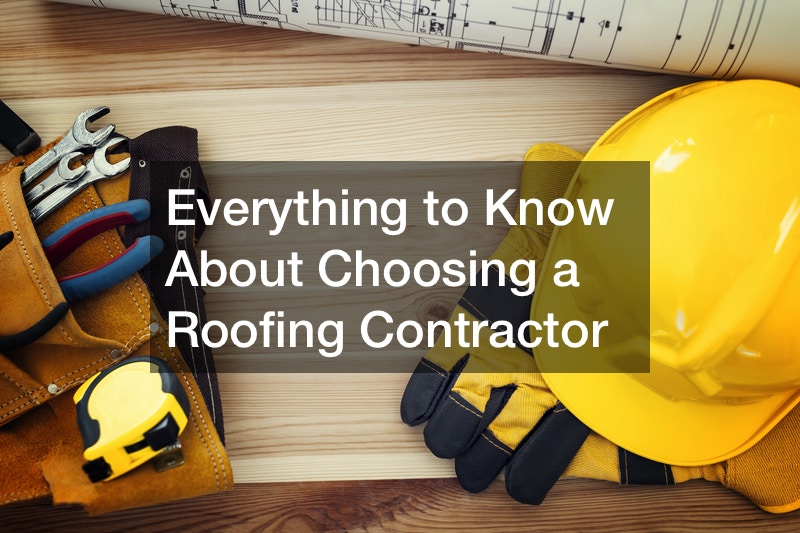 So you want to install a roof on your own house? Before you go and dump all your money into it only to realize that the next day you're over budget, check out some of the factors you need to consider when choosing a roofing contractor;
Building Experience
It is important to have a roofing contractor who has experience, so hiring an experienced professional can give you peace of mind. Experience plays a significant role when looking for the best contractor to help with a home improvement project, such as a roofing system replacement or installation. Having industry-related training and certifications plus several years in the business will usually result in better commercial roofing services. While having experience is essential, even more important is the contractor's company history. A company that has been around for several years can be trusted compared to someone who just opened for business last week. Remember that a poorly installed roof can seriously impact the interior section of your house, especially during the rainy season. Decorative features like stucco can be destroyed by the rainwater coming in through the roof.
A new roofing contractor may not give you references or previous clientele since they are just starting. Choosing a contractor that has been in the business for several years does not guarantee quality work. Still, it is a good indication of their commitment to the industry and their customer base. When you pick someone with experience, you can feel more confident about your choice. Experience is one of the best indicators a contractor is conversant with commercial roofing, especially if they have several years of experience. A roofing company that has been in business for many years is usually more reliable, dependable, and trustworthy than a new roofing contractor who has only recently opened their doors.
Insurance
Roofing contractors come in all shapes and forms. It is widely thought that the only difference between them is the price they charge for their services. While this may be true to some extent, there are certain factors you should look out for when choosing a roofing contractor by which to judge their experience level and workmanship. One of these important factors is whether or not they are insured. Choosing roofing specialists with no insurance is like inviting thieves into your home without checking for their credentials first. With no insurance, you can't hold anyone accountable if anything goes wrong. Any money saved by hiring an uninsured roofer could cost you dearly should something go wrong and the roofer becomes uncooperative.
For first-time customers, however, it can be hard to determine who is good and bad. Most people would say that if a contractor has been in business for ten years or more, they must be very experienced and skilled at their trade. However, many such contractors do not have insurance, so you may be left with no option other than to pay the price yourself if something goes wrong. This leaves you between a rock and a hard place because, on the one hand, there is the contractor without insurance who will probably charge less, but there is also the roofer that charges more but has insurance just in case anything goes wrong. The best way to go about this is to be aware of how much it will cost you if something goes wrong.
References
Choosing a roofing contractor is not only difficult, but also dangerous. Many people offer to work on your roof without ever having done one before. This can cause serious damage to your property, which can cost you thousands of dollars in repairs. It would be best to make sure the person you are hiring has experience of doing work on roofs that require repair caused by roof storm damage and has references you can contact to verify this. If they do not have any references, they are probably roofing novices and should be avoided. A roofer without references is like a mechanic without tools – useless! Finding references for the contractor is easy; all you need to do is ask for them. If they refuse, this should raise a red flag, and you should stay away from them. Finding references lets you find out information such as: how long have they been roofing? What kind of roofs did they work on (because different roof types require different skills)? How many roofs have they worked on? All of these answers can be obtained by checking references. It is worth the time and effort to do this before actually hiring the roofer because it will save you a lot of headaches in the future.
License/registration
As a homeowner, it is important to select the right roofing contractor for your needs. Unfortunately, many homeowners find themselves regretting their selection after the fact. Some common complaints include late service calls, incomplete roofing service, and poor quality materials used on the job site. When selecting your roofing contractor, it is important to consider registration. Registration shows that a contractor has the knowledge, heavy equipment for sale or hire, and insurance required to complete your project. It also allows you to contact their customer service department with any questions or concerns after completing the job.
Registration and licensing are there to protect the consumer. It also provides you with a point of contact in case anything goes wrong. If your roofing project is not completed to standard, you will need someone to speak to you when filing your insurance claim. Be sure to ask your contractor if they are registered, what type of registration they hold, and the date of expiry of their license. The contractor should be able to answer these questions before you hire them. As a homeowner, you want to make sure that you get what you pay for. Using a contractor with registration ensures that your project will be done right and on time.
Location
Choosing a roofing contractor is a very important decision. There are many factors you must consider, and one of the most critical is location. Why? Put, if your roofer can't do the job when they say they will be there, doesn't show up when expected, or simply does not carry out work to usual high standards, it can be an inconvenience. If they are local, at least you will always know where to find them when the need arises. Even if the contractor is competent, a location that's distant from your home could be problematic in terms of responsiveness and dependability.
It might make more sense to hire a roofing company located closer to your house in some cases. Many roofing professionals work from their own homes. This is often a requirement of the licensing process in several areas. By using a contractor from your neighborhood, you might be able to call them up personally and discuss the project. Of course, this is not always possible with a business located far away. The most important parameter to consider about the contractor's location is how close it will be to your home.
Guarantee
Before selecting the contractor to provide the roofing services for your commercial properties for sale or residential building, you must determine what warranty is given for the materials and workmanship. Some contractors may not give any warranty on their installation and repair service, while others will offer a warranty for one year. A long-term warranty can be of great significance, especially when entrusting your home to the contractor. Every contractor will say they have the best materials and methods to install roofing systems for commercial and residential properties. However, unless they give their customers a warranty on the workmanship, you cannot be sure if they are telling the truth or just trying to get your money. You can also ask the contractor to provide you with a copy of the warranty provided by the different types of roofing materials. This way, you can decide which material will be best for your home or office.
In some cases, you may find out that there are expensive roofing systems with a limited warranty, and they cannot last long. Do not get carried away by the sales pitch given to you by the roofing contractor, since the materials used in the construction of a roof will need regular repairs and maintenance. The best way to get value for your money is to work with a local company with years of experience providing top-quality roofing services and using approved and durable materials.
Payment Schedule
Choosing the right roofing contractor can be difficult enough. Still, if you choose one who is either unable or unwilling to work within your financial parameters, it could end up hurting not only your wallet but also your time. Many people don't pay much attention to when they receive payment until the end of selecting a contractor. To avoid being caught off guard, it is best to know how your roofing company plans on handling billing, so you have fewer surprises in the long run. Many roofing companies will be glad to accept either a down payment or a deposit before beginning work, but the percentage often has some difference. A smaller down payment means more of your money going toward the project, while a larger down payment allows you to have more money at hand for other purposes while the contractor completes their work on your home. Another option some companies offer is to bill you every month. This could be the best-case scenario for some homeowners because it keeps your payment within reason while having little impact on your budget. When you are at the point of choosing a roofing company, ask them if they will accept either a down payment or deposit and if they will be billing you on a monthly or per-job basis. It is possible to have both options available, but some companies may not offer this.
Completion Time
Choosing a roofing contractor can be difficult. A homeowner has to weigh many different factors of the best option for their needs and their family's safety. When weighing out all these different factors of choosing a roofer, one should consider how long it will take for them to complete the job on your roof. A roofer can get very busy and not make time for you, so it is important to check references and reviews before hiring someone. Many people do not realize how long it takes to put on a new roof. If you want a roofing contractor who will take their time and not rush through your project, then look for one with good review that can stand by its work. You should understand that there is more to putting on a new roof than just the physical aspect of putting on the new material. It also takes time for cleanup and all the prep work beforehand. So, when choosing a roofing contractor, make sure you think about how long it will take to complete the job. Quality takes time, and rushing through it is not doing anyone any favors. Take your time, do your research and find someone who loves what they do and the quality of their work shows it.
Priorities
It is important to hire a roofing contractor with priorities. Not only are their services needed, but the way that they operate can save you money by hiring a roofing company that doesn't have priority for service. Without priorities, a roofing contractor will come out of your house, give you an estimate, and then never return. They may be able to get it done, but their lack of commitment can place you in a tough spot if something goes wrong later on down the road. Not having priorities can mean extra problems for your home. Roofing contractors with priority will return your calls and get back to you quickly. They will work closely with you to make sure that they know what is going on and how best to fix the problem for you. They also have a sense of urgency about them, so if something requires immediate attention, it will be done in a timely manner.
In some situations, a contractor may have to wait for another job to be completed before they can begin working on your roof. However, if the roofing contractor with priorities has discussed this matter with you and created a set timeframe of work, they will make sure that this is done in a timely manner. Roofing contractors with priorities know that their deadlines are important to them, and they will work closely with you so that your roof is completed on time as well.
Quality of Work
Many homeowners believe that the only thing they need to consider when finding a roofing contractor is the price. This is an extremely dangerous assumption that can compromise your quest to hire a competent custom home builder for most homes. It would help if you were looking for a roofing company with trustworthy employees who can provide you with quality workmanship for years to come. Although quality roofing materials can be costly, it is also a fact that they will save you money in the long run. For most homeowners, the type of material being used for their roof is not even going to matter compared to other factors such as price and customer service. Customers should always be asking themselves which roofing contractor is doing the best work. Being able to trust the roofing contractor is key when it comes to quality workmanship. You should be looking for many different things when trying to determine if your roofer has questionable morals and ethics. You should ask yourself if they will do good work and if they have a strong track record and guarantee their work for up to 40 years.
The roof is one of the most visible parts of a house, and as such, every effort should be channeled into ensuring that it is in good shape. As discussed in this article, finding a roofing contractor who is not competent in their work can easily interfere with the structure of the house and lead to you spending a lot of money on repairs. To avoid such a scenario, it is advisable to consider some of the factors mentioned in this article.