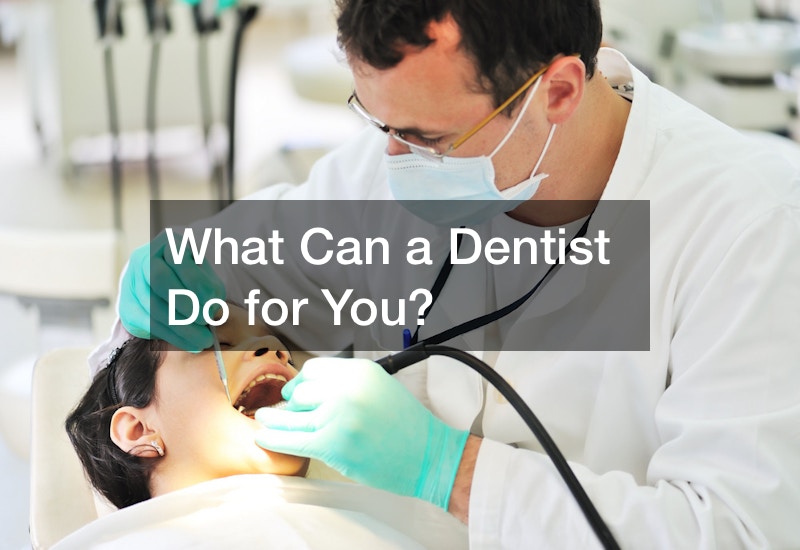 Maintaining good oral hygiene is essential for healthy self-esteem and your overall well-being. A dentist can help you have a gorgeous, healthy smile through various procedures and tactics. Dentists offer general dentistry, pediatric dentistry, cosmetic procedures, teeth whitening, and more to help you look and feel your best. In this complete guide, we'll explore common services that a dentist offers and how they can help you.
General Dentistry
General dentistry involves preventative measures. This includes X-rays, fluoride treatments for younger patients to prevent cavities, and regular cleaning services. Your dentist will use regular appointments either yearly or bi-annually to help provide education on proper oral hygiene, such as letting you know if you are missing particular spots while brushing and flossing and what foods and drinks can cause tooth discoloration.
This scope of dentistry encompasses general treatments for common conditions. Dependable dental offices can help fill a cavity or repair a broken tooth. They can treat conditions like gum disease. Many general dentists can provide treatments that other dentists can, such as teeth whitening or putting caps on teeth. Your dentist will perform a thorough evaluation, provide treatment, and educate you to help you prevent future problems.
A dentist can make referrals for services that they are not able to do. For example, if a patient winds up needing oral surgery, a general dentist will perform the initial evaluation to determine treatment. Then, they will refer you to a specialist that can help you. It's common for patients to need a referral to an oral surgeon instead of being able to schedule an appointment with the surgeon directly, making a general dentist necessary for most dental concerns.
Pediatric Dentistry
Pediatric dentistry is a dentist for kids. Dependable dental offices have child-friendly offices that are warm and fun for children, helping to establish the healthy foundation that children need for a life of proper oral hygiene. Offices may offer prizes and often give children a new toothbrush at the end of a visit to remind them to brush daily. The best pediatric dentists know that children should enjoy going to the dentist.
An overall evaluation and preventative services are often similar to those that an adult receives. The dentist will examine your child's mouth visually, and complete X-rays at least once a year to determine if the teeth are healthy. Regular checkups will involve cleaning, flossing, and training to help parents understand the best way to care for their children's teeth.
Pediatric dentists will also be able to handle simple procedures, such as filling cavities and putting caps on teeth when necessary. They can refer specialists for things like oral surgery, which may be necessary if children need to have several teeth pulled or capped. Dependable dental offices can also recommend treatment options, like braces for crooked teeth. Last, but not least, most pediatric dentists provide emergency services for children. For example, if your little one falls and it pushes their tooth into their gum or breaks a few teeth, a children's dentist will be able to fit you in to make sure that your child's teeth are going to be okay.
Cosmetic Dentistry
Cosmetic dentistry involves any type of dental work that is for cosmetic reasons. This branch of specialty dentistry goes beyond basic dental care services and focuses on creating a more positive aesthetic. A cosmetic dentist usually has a keen eye for dental aesthetics and uses various procedures to help you feel confident in your smile.
Various procedures are available depending on your specific concerns. Veneers are one of the most common ways that people address small imperfections, such as a chipped tooth or discoloration. During this procedure, shells are custom-made and then bonded to the front of the teeth for a flawless smile that leaves a lasting impression. Cosmetic dentists can also help straighten teeth, perform procedures to repair cracked or broken teeth, and more.
One of the huge benefits of working with a dentist that specializes in cosmetic dentistry is that every patient receives an individualized treatment plan. The plan will focus on correcting your concerns, whether that's crooked teeth or fixing a simple chip in one tooth. Dependable dental offices will work with you to develop a plan that achieves your dental goals. Remember that these dentists often see adult patients, but will occasionally see a child for less invasive procedures.
Orthodontic Treatments
Orthondontics are a specialized branch of dentistry that focuses on the position of your teeth and jaws. This helps boost self-confidence and promotes healthy oral hygiene. For example, brushing away plaque from straight teeth is easier than trying to get in between crooked teeth. Most people visit an orthodontist for procedures to help with the alignment of teeth, such as braces, but these professionals offer several services.
Traditional braces are far from the only treatment option for crooked teeth. Invisible aligners are a popular alternative, and most people only have to wear them at night to slowly help straighten their teeth. Lingual braces are equally popular because most of the braces are on the back of the teeth, making them less noticeable. Dependable dental offices will review every possible treatment option with you to help you select the best one for your situation.
Orthodontics also offers corrections for bite problems. Bite problems, such as an overbite or underbite, can make chewing food more difficult. This impacts digestion and can strain the teeth and jawbones because you have to force your mouth into proper alignment every time you eat something. Left untreated, a bite problem can result in several issues, making an orthodontist necessary. Family dentists can refer you to an orthodontist for specialized treatment.
Reconstructive Dentistry
Reconstructive dentistry is a branch of dentistry that focuses on rebuilding and restoring your healthy smile. This can involve work on teeth, gums, and other structures, such as the jaw bone, to help restore your healthy smile. Some of the services offered by these specialists are also offered at your local dentist's office. For example, they may provide fillings for small cavities or be able to refer you to another specialist for additional dental work.
A reconstructive dentist offers several options for decaying or missing teeth. Full and partial dentures are common for individuals with severe tooth decay. Caps are available for patients that have one or two cavities. When these are placed in the back of the mouth, they're less noticeable. Other procedures this type of dentist can provide include, but are not limited to, bridges, implants, and reshaping your gums.
A reconstructive dentist focuses on both function and aesthetic appeal. They will help address any issues that are causing pain or making it difficult to eat, such as cavities and tooth decay. Then, dependable dental offices will help enhance the appearance of your smile to help you feel confident when you laugh again. You'll receive a thorough evaluation to help you achieve your goals.
Teeth Whitening
Dental teeth whitening services are one of the most commonly requested cosmetic dental services. That's because your smile is guaranteed to leave a lasting impression. When it's discolored from years of smoking or drinking tea, that can be a negative impression. Instead, you want people to remember you for having a beautiful, bright smile.
There are several benefits to opting for teeth whitening. First, it's one of the most affordable cosmetic dental treatments that will enhance your smile. Treatments are quick, and often only require one office visit per treatment. There's zero downtime, which can't be said about other dental procedures. Most people see results immediately, too.
Patients have several options regarding methods to whiten teeth. Professional teeth bleaching services are common and provide dramatic results. For this procedure, a dentist will apply a bleaching agent to the teeth. Sometimes, a laser or light is used to enhance the effect. Results are seen immediately afterward. Dependable dental offices can also help you with at-home bleaching. For this treatment, a bleaching agent or gel is put inside a tray that is then worn over the teeth for a specified daily period. Results do take time and are less dramatic compared to in-office teeth bleaching.
At-home teeth whitening products are becoming increasingly popular, and don't require a trip to the dentist. However, these products are less effective than treatments offered by an experienced dentist. When they do provide results, they are minimal compared to the results a dentist can achieve. That's why we don't recommend DIY teeth whitening methods.
Dental Implants
Losing a tooth or several teeth can have an instant impact on your self-esteem and appearance. Missing teeth in the back of the mouth can make chewing difficult, while those missing in the front of your mouth can make everything from biting food to speaking challenging. Dental implants provide a revolutionary solution to help people enjoy having teeth again.
The process for implants often involves a thorough evaluation to ensure that you're a candidate for implants. Dependable dental offices that specialize in implants will take an impression, determine bone density, and determine if this is the best choice for you. Then, they'll develop a treatment plan with you. This may involve bone grafting to increase bone density. It will involve several procedures, such as putting the implant in the mouth and then fixing the fake tooth to the implant.
Receiving implants is a procedure that requires multiple office visits and can take months, but most people feel that it is well worth it. Dental implants eliminate the uncomfortable aspects of wearing dentures, such as loose-fitting dentures not staying in place properly or having to take them out at night. They also look and feel like real teeth.
You'll be able to take care of them just as you did your teeth, and they'll provide the same aesthetic appeal. When it comes to fake teeth, implants are as close as you can get to the look and feel of real teeth. That's why they have become the gold standard in tooth replacement. A quick search for dental implants near me can help you find a specialist in your area.
Root Canals
Root canals are often one of the most feared dental procedures, but they shouldn't be. A root canal focuses on treating the innermost part of the tooth that contains the root, including nerves, blood vessels, and tissue. This procedure can help save a decaying tooth and prevent further complications.
Root canal treatment is often necessary when a tooth is severely decayed. The decay can slowly spread from the tooth into the root of the tooth. If left untreated, this can cause an abscess or lead to a patient losing the entire tooth. This procedure can also be necessary after severe damage or trauma to a tooth.
A root canal preserves the natural tooth. To perform a root canal, a dentist drills down through the tooth to access the infected canal. Then, they clean and disinfect the area often called the pulp. After that, the canal is filled and sealed, preventing further infection. In most cases, a cap or crown is placed over the tooth to ensure that patients can still eat and speak properly. A crown can be dyed to match the color of the surrounding teeth for a natural appearance.
After a root canal, it's important to practice proper oral hygiene. Although the root canal procedure is designed to prevent another infection, it's not foolproof. Teeth in the surrounding area can still get infected, and are more likely to be several years after you get a root canal. Use a powerful mouthwash, brush regularly, and floss twice a day. Regular check-ups with dependable dental offices are another important part of aftercare.
Dependable dental offices can help you enjoy healthy self-esteem, a beautiful smile, and a functioning mouth. When you visit a general dentist regularly, you'll enjoy having fewer dental concerns. You'll also be referred to specialist dentists to ensure that your teeth always look and feel healthy. Specialist dentists can address everything from dental necessities, such as dentures and an overbite, to aesthetic appeal, such as fixing a chipped tooth. A dentist can help you enjoy smiling again.