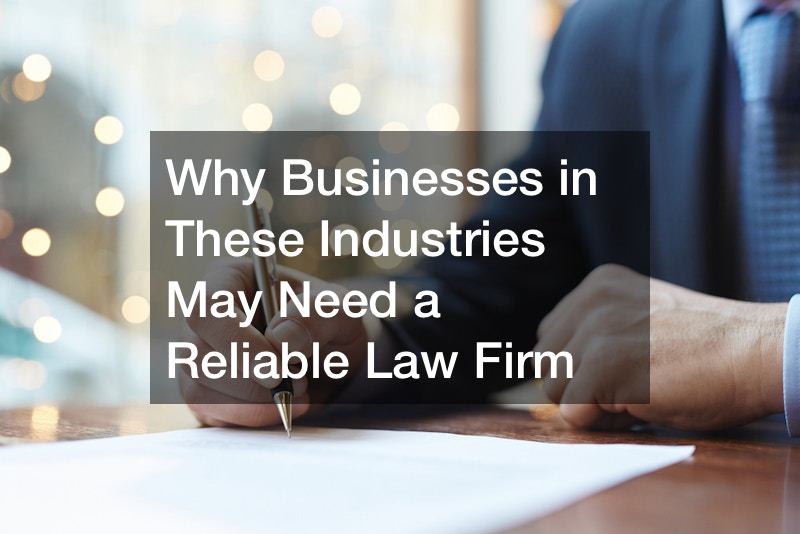 Whether you're starting a new business or you've been running one, at one point, you'll encounter several legal situations in your industry that require professional legal assistance or action. However, you may not be completely enlightened on what issues are illegal and which aren't, hence the need to work with a reliable law firm. Working with legal services guarantees smooth functioning, ensuring you're not committing any illegal work that can threaten your business.
Learn About the Indispensable Role of a Reliable Law Firm for Businesses in the Following Industries
Several legal aspects can affect your business. Your company may get sued, you may want to enter into contracts with clients with legal implications, or you may file lawsuits against others. Whatever the reason, if you don't know how to protect yourself or your business, hiring a lawyer to manage your specific case is crucial. Which attorney does your business need?
What Kinds of Attorneys Are There?
The business world is complex and can be particularly litigious. However, you should know the right attorney to consult for your business to get legal advice while filing a lawsuit or answering it. In business, there are several lawyers, each specializing in different areas, that you can closely work with to address legal issues, mitigate risks, ensure compliance, and others.
Depending on the size and nature of your business, you can seek external legal counsel from reliable law firms specializing in business law. You can hire a general business attorney specializing in corporate law, corporate governance, international trade, and security law in the firm. The duties of a general business lawyer vary depending on the type of business.
You can also hire an injury or accident attorney to advise on various personal injury lawsuits in workplaces due to various risks like machinery malfunctions, hazardous substances, falling objects, or inadequate safety measures. The other types of attorneys specializing in different areas of business law include:
Corporate attorneys focus on business-related matters, including corporate governance, mergers and acquisitions, contract drafting and negotiation, and intellectual property protection.
A criminal defense attorney will represent you if you're facing criminal charges. Contract attorneys specialize in the legal aspects of contracts. They help negotiate favorable terms, draft valid contracts, and explain terms and conditions to clients.
Employment attorneys handle workplace discrimination, harassment, wrongful termination, wage disputes, and employment contract negotiations.
Intellectual property attorneys focus on protecting intellectual property rights, including patents, trademarks, copyrights, and trade secrets.
Real estate attorneys handle legal matters related to property transactions, including buying and selling property, lease agreements, zoning and land use, property disputes, and title examinations.
Immigration attorneys assist businesses with immigration matters, such as visa applications, work permits, green card applications, deportation defense, and citizenship applications.
Environmental attorneys specialize in environmental law and regulations. They advise businesses on compliance with environmental laws, handle environmental impact assessments, and represent clients in environmental litigation.
Tax attorneys provide legal advice and representation on tax-related matters. They'll help you understand tax laws, handle tax disputes, and assist with tax planning.
1. Medical Offices
When establishing a medical office, there are various legal requirements and regulations that you'll need to understand and address by engaging the services of a reliable law firm. If you're a dentist with an established medical office, you must identify specific legal requirements in the medical sector.
The areas include healthcare regulations, malpractice defense, contractual agreements, employment law matters, licensing, legal disputes, and business transactions. This helps individuals owning medical offices to determine the areas where legal assistance is necessary.
After the medical offices identify legal needs, they should select a law firm specializing in healthcare law or have experience working with medical professionals and providers. Choosing a law firm with expertise in the relevant legal areas is crucial to ensure effective representation.
The medical office schedules an initial consultation with the chosen law firm, during which they discuss their legal needs and assess the firm's expertise, experience, and compatibility. This consultation allows both parties to determine if they are a good fit and if the law firm can adequately address the medical office's legal requirements.
If the medical office decides to proceed, they enter into a retainer agreement with the law firm. This agreement outlines the scope of legal services, fee arrangement, and other relevant terms. It ensures that legal services are readily available when needed and provides a framework for the ongoing partnership.
2. Plumbing
There are two professionals any plumbing business should have early on –an accountant and a lawyer. An accountant will help review your numbers and advise on local tax returns. However, hiring a plumbing business attorney can help you set up your business, handle intellectual property rights, and help establish contracts, especially in the septic pump out process.
The attorneys should keep you updated on any changes made in federal or local laws that, if not adhered to, may affect your plumbing business. In other words, you'll avoid legal problems, but your attorney can assist you if you find yourself on the wrong side of the law.
Hiring an attorney may be expensive, but if your plumbing company faces a lawsuit, they will assist you in understanding the nature of the dispute. For instance, if it's plumbing contract disputes, the lawyers can help in the mediation or arbitration resolution rather than filing a costly lawsuit.
Finally, plumbing business lawyers from a law firm can assist you with business formation and structure, contracts, licensing, employment law matters, dispute resolution, risk management, and regulatory compliance. Engaging such an attorney in your plumbing company can ensure you operate legally and effectively in a complex legal landscape.
3. Roofers
Working with a reliable law firm is important for your roofing business. For example, if the law firm specializes in construction, they can assist in understanding the contracts and agreements from your hired local roofing contractors.
They ensure that the roofing business's interests are protected as they review, draft, and negotiate contracts with clients, subcontractors, and suppliers and help resolve any contract disputes that may arise. The law firm can also guide you in obtaining the necessary licenses and permits if you're starting your roofing business.
They can advise on safety standards, building codes, and environmental regulations relevant to the roofing industry. A law firm can also be invaluable when dealing with employment contracts, employee handbooks, and wage compliance. The lawyers from the firm address employment disputes or discrimination claims.
Roofing businesses also face potential risks or liabilities. Still, if you collaborate with a reliable law firm, the attorneys can assist with risk management strategies, review insurance policies, and guide insurance coverage options. If your roofing company faces a liability lawsuit, the layers can represent you legally.
4. Demolition Services
Businesses that offer demolition services can greatly benefit from working closely with various types of lawyers from a reliable law firm. For instance, a construction law attorney will guide contractual agreements that your clients may make with the demolition contractors from your company. They also help with risk management specific to demolition activities.
An environmental law attorney will help your business by checking the environmental regulations ensuring compliance in areas such as hazardous material handling, waste management, and remediation. Hiring occupational health and safety attorneys from the law firm will advise you on safety regulations and help develop a protocol.
Insurance law attorneys will also assess insurance for your demolition business's coverage needs, review policies, and guide claims to manage risks effectively. Dispute resolution attorneys will help you resolve conflicts through negotiation, mediation, or litigation while protecting the business's interests.
5. Electricians
A certified electrician in business should consider working with attorneys from a law firm for several compelling reasons. Firstly, the attorney's guidance on legal compliance can help electricians understand the laws governing electrical work. Attorneys with expertise in this field can help with building codes and safety standards to avoid potential legal pitfalls.
Electricians often enter into contracts with clients, contractors, or suppliers. With a reliable law firm, they can review and negotiate these contracts to protect the business's interests. The lawyers from the firms ensure that terms and conditions are fair while also addressing any arising contract disputes.
By leveraging legal expertise, electricians businesses can secure their rights, mitigate risks, and maintain healthy business partnerships. When starting an electrician services business, attorneys can guide you through choosing the appropriate legal structure, such as a sole proprietorship, partnership, or limited liability company (LLC).
Moreover, attorneys specializing in employment and labor law will explain the intricacies of workforce management and guide you in employee contracts, wages, workplace safety, and anti-discrimination laws. This assistance ensures compliance with employment laws and minimizes the risk of legal disputes in the business, fostering a legally compliant electrical work environment.
Finally, electricians can benefit from expert legal guidance tailored to their specific needs by collaborating with attorneys from a reliable law firm. Their expertise in legal compliance, contracts, business formation, employment law, intellectual property, dispute resolution, and regulatory updates empowers electrician's businesses to operate confidently.
6. Tow Companies
While tow companies do incredible jobs by assisting vehicles in roadside breakdowns, accidents, and vehicle impounds, they may face legal disputes. For instance, if a company offers a heavy towing service without reasonable care and damages a client's vehicle, they can be sued.
The companies can also face other legal issues, and without the professional help of an attorney from a law firm, it may lead to the collapse of the business. The companies must comply with local, state, and federal regulations governing the towing industry, and failure to meet licensing, permit, or operational requirements can result in legal consequences.
The tow company may require legal intervention to resolve contract disputes like disagreements over service fees, terms, or damages. Also, since towing operations involve potential risks, including accidents, property damage, or injuries, they may face lawsuits related to negligence, inadequate training, equipment failure, or improper handling of vehicles.
Additionally, tow companies impounding and storing vehicles must comply with specific regulations governing storage fees, notification requirements, and disposal procedures. Failure to comply with these regulations can result in legal action. Companies that hire a lawyer early on can avoid these issues because they will have the best legal guidance.
7. Natural Gas Companies
Natural gas companies such as propane suppliers are normally extensive in scale and diverse operations. For this factor, the industry is bound to get into legal conflicts, hence the need to work with gas lawyers from a reliable law firm. The companies mostly employ in-house lawyers to deal with the organization's business and legal interests.
The lawyers guide and advise the company on management aspects, negotiate commercial matters with contract companies or joint venture partners, and amend legal documents, among other functions.
8. Landscaping Companies
Partnering with a reliable law firm can benefit landscaping companies, such as a reputable tree removal company. The lawyers can help you obtain necessary permits and ensure compliance with environmental and zoning regulations. This ensures that the landscaping business avoids any potential penalties or legal issues.
Finally, from navigating permits to addressing liability issues, contractual agreements, property disputes, environmental compliance, employment matters, and dispute resolution, a lawyer from a reputable law firm can help the company operate within the law, manage legal risks, and protect their interests in case of a lawsuit.
9. Heavy Equipment Services
Heavy equipment services, especially those offered with a local dump trailer, require the assistance of a law firm while dealing with contracts and agreements with clients, subcontractors, and vendors. The companies may also need an attorney's legal expertise in drafting, reviewing, and negotiating contract documents.
Compliance with permits, safety standards, and environmental requirements in such a business is important, and a law firm can guide to ensure adherence. Heavy equipment services companies can safeguard their interests by partnering with a law firm.
With experience in business, you'll find a way to deal with most problems like managing cash flow, hiring employees, time management, developing marketing strategies, generating capital for the business, clearing self-doubts, and many more. However, all your queries may not be solved. Some will require legal advice from a law firm, which assures you that you'll always have the right advice if anything goes wrong.