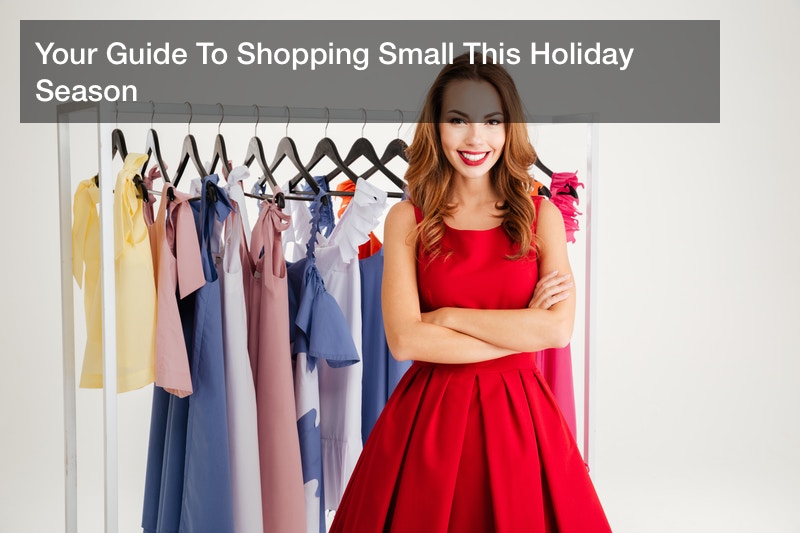 The holiday season has just started to kick up into full gear, and with it comes the shopping season. Buying gifts for everyone in your circle can be stressful during any year, but 2020, in particular, is promising to be a bit frenzied. A lot of businesses have undergone an unusual amount of economic stress due to the COVID-19 pandemic, which means that they'll all be competing for your dollars. This in itself isn't necessarily a bad thing for you; there will be a lot of great deals available this year! But it can make deciding where to shop a bit more difficult.
Furthermore, due to social distancing restrictions and safety concerns in general, you probably won't want to visit any of the typical big box stores in person. This will have you shopping online, which has its pros and cons. Shopping online is convenient and certainly more straightforward than going through the maze of aisles in a big store, you may also feel like you're missing out on the personal aspects of gift-giving this year. However, you don't have to. When you buy from a small business rather than a big corporation, even if you're buying online, you're not only able to access a lot of unique gifts for your loved ones, but benefitting a business owner who may be struggling this year.
A lot of entrepreneurs planned on starting a new business this year without having any idea of what would happen. You could be prepared for virtually any eventuality as a business owner, but predicting a global pandemic that would have a lot of people out of work and even more staying home would have been virtually impossible. The small businesses that have made it through to the end of the year are now going up against major competitors this holiday season. When choosing to buy from a small business, you're not only making a more ethical decision but potentially buying smarter.
Small businesses are known for offering a more unique selection of products than those featured in major big box chains, though they also often sell more mainstream products and brands as well. You'll often receive a more individualized treatment from a small business, and quite often the products are more high quality as well. If you're interested in a personalized gift, it's easier to buy that from a small business than a big one. Those that want to give more unique gifts this year may be better off choosing to buy from a small business, of which there are 30.2 million in the United States alone, than a big one.
But unique gifts come in many different shapes and sizes. Some individuals prefer that donations are made in their names rather than receiving traditional gifts. You could not only buy from a small business but help them out in other ways that such gift recipients might appreciate. Donating to a small business is certainly an option, as is donating to charitable organizations. Let's delve into how you can find great gifts through small businesses, and how you can explore alternative gift-giving options like donations.
How Do I Shop Around Small Businesses Before Buying?
One of the main concerns that shoppers often have before buying from small businesses is whether or not the small businesses they're considering are reputable. Not every small business is necessarily trustworthy, and not due to any ill intent on the part of the people running the business. Some small businesses just aren't ready to fully operate, and certainly not ready to undertake the influx of orders that can arise over the holidays. You don't necessarily want to be among a business's first 10 orders when you're shopping for a Christmas gift. By all means, you should still buy from a small business. You just need to do your research before committing to a small business.
If you're really beginning your shopping trip online for the first time, you may want to look at bigger websites that facilitate small businesses, rather than simply using a search engine to find a small business at large. For example, Etsy is a great option that hosts artisans and small business owners who sell their works online. Etsy is reputable, which means that you can feel more comfortable buying from a small business on that platform than a lesser known website. You can at the very least be sure that your payment information is secure and not accessible to the small business owners themselves. Furthermore, Etsy has a rating and review system. That way, you can use these ratings and reviews as a kind of guide for choosing a shop. If a shop doesn't have many ratings, it probably hasn't been in business very long and therefore might not be the best place for you to buy whimsical artwork or other such products.
Furthermore, there is a lot to choose from on this type of platform. You can buy brand new products or vintage or antique products. A lot of people who prefer more unique or eclectic gifts like the idea of receiving something pre-used. They enjoy the history of pre-owned products and the fact that these types of gifts are more sustainable and in a sense recyclable. Buying from an antique or vintage clothing store is still choosing to buy from a small business. So, when you're considering buying from a fashion shop, why not see if you can find what you want to gift through an online vintage clothing store? You may very well be able to offer a nicer gift that was bought secondhand due to the discounts that tend to accompany these types of products. If you'd really like to support some of these sustainable small businesses that offer secondhand items, you may even want to donate some of these types of items to them. Donating such items is a great way to support small businesses.
What Are Some Great Gifts To Source from Small Businesses?
There are a lot of things that you can buy from a small business; not just products, either, but services as well. Like we mentioned earlier, it's often easier to find unique gift ideas when shopping from small businesses. Why not explore some of these ideas?
If you're really interested in the idea of offering something different from the typical appliances for foodies, you may want to consider hand-crafted wooden cooking tools. Old school cookware is still available, but often more from small businesses like Old World Kitchen versus big ones. These are usually crafted with traditions in mind, making the products hardier and certainly more unique than what you might find in the aisles of a major grocery store. Unique, hand-crafted ceramic products like salt and pepper shakers could also be a good idea, as would cookbooks made up of family recipes from around the world.
You may also want to think about the types of gifts that can be facilitated through virtual platforms. A lot of small business owners who'd usually offer in-person classes or sessions are struggling right now. But their services can frequently be offered on a virtual level. If someone you love is trying to start off the new year on the right foot, think about giving a gift certificate for a personal trainer's virtual sessions like those offered at BodyLove Pilates. On the other hand, those foodies we mentioned above may appreciate a virtual cooking class, similar to those offered by Nonna Live. These types of virtual classes offer resources for people who want to remain connected to the outside world while at the same time social distancing.
There are also practical gifts to consider. There is always someone in the family who asks for things that they need, rather than things that you'd think they would want. You can still honor their wishes while giving a comfortable spin on the product. For example, the electricians in your family, whether they work at home on their own projects or professionally, may appreciate a well-crafted denim or leather bag for their tool kits. Similar products are available for plumbers, as well as people who just want to handle their renovations on their own.
Speaking of working on your own, there are plenty of small businesses that cater to those who have crafting on the brain. You may want to buy your crafty loved ones clothing patterns like those from the Friday Pattern Company that they can work on at home. If they love vintage clothing, some vintage stores even offer old-fashioned clothing patterns that have been preserved for decades. The thrill of this kind of gift is that it allowed your loved one to make authentic clothes. If you know an artist, you may want to consider buying them handcrafted brushes and tools like those found at Martha Mae, which often last longer than those that are mass-produced. On a simple level, yarn and knitting supplies are often appreciated, especially around the holidays. The Knitting Tree, LA is a small business from which they can buy all their knitting supplies!
Of course, you may very well want to offer a gift to those in your life who may want to be entrepreneurs someday as well. What better time to buy from a small business than when you're attempting to shop for the future small business owner that you know personally? Sustainable wooden desks like those found at small business Masaya are certain great gifts for those who are trying to brainstorm their business ideas. And if they're really staying up late trying to get their plans off the ground, a heated coffee mug could be a great gift as well. You may also want to give a donation to a young small business owner if any of your loved ones count themselves among that bracket. That's an amazing gift that literally keeps giving. Imagine choosing to someday buy from a small business that you helped grow!
How Can I Give Back With My Gift?
How do you shop for the person who just really wants to give back? A lot of that will depend on their own charitable interests, of course. Not everyone wants to support the same causes. Now, there are a lot of ethically-minded small businesses that focus on giving back through their products. You could buy a gift from a business that offers a certain amount of its proceeds to charity or helps people in need by offering them jobs.
For example, you may want to consider ethically produced clothing. Nisolo produced ethical footwear, socks, and accessories. The big concern with clothing, in general, is that, when it is mass-produced, it may be created through the use of sweatshops or labor that is otherwise unethically sourced. Working with small businesses like this one allows you to buy great products while knowing that they were created ethically. In a similar fashion, small business ART ARK offers ethically-sourced Australian Aboriginal artwork. This business allows the Australian Aboriginal community to continue their artistic traditions while being able to benefit from it on a financial level.
Of course, you may also want to jump straight to donating to charitable organizations rather than choosing to buy from a small business that is ethical or charitable. This can be a great option too! Immediately, you may want to consider donating to your local SPCA. SPCA donors are often gifted with a photo of an animal that they helped, or something like a bag or t-shirt. You can offer this as a gift so that the recipient can know that you donated in their name.
Other great options include your local women's shelter or homeless shelter. A lot of these types of organizations work to not only help people in the present but enable them to live happier and more productive lives in the future. They may offer career counseling services or even professional alcohol interventions for those struggling with substance abuse. But it's difficult to do so without charitable donations.
Bigger organizations that help the global community are great options as well. Heifer International helps struggling families in rural areas across the world by donating livestock; donors can also fund a girl's education. The World Wildlife Fund helps protect endangered animals across the globe as well. The International Rescue Committee uses donations to supply refugee camps for people who've had to leave their homes.
There are so many options for you to choose from as you buy gifts. So whether you choose to buy from a small business, donate to help a small business grow, or donate to a charitable organization, prioritize thinking about how your gifts can give in more ways than just one this year.