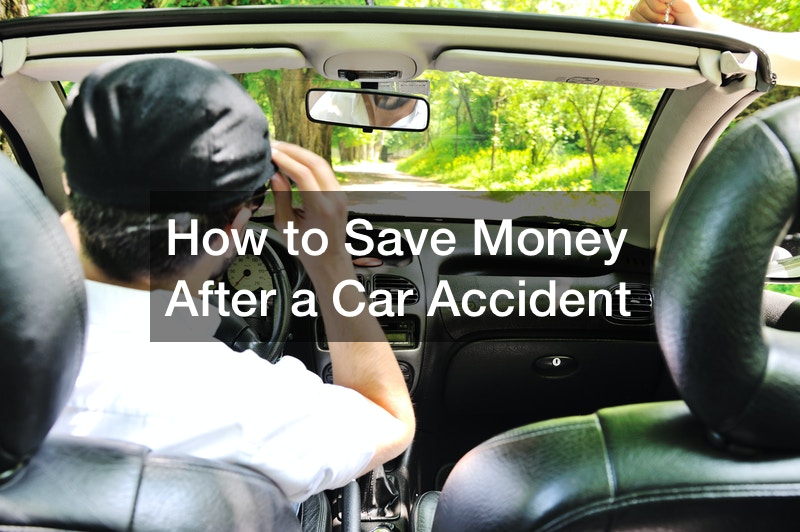 Have you recently been in a car accident? Have you ever wondered how your finances would be affected if you were involved in a car accident? What is the next step after you call the towing service and personal injury attorneys?
The experience of being involved in a car accident is frightening. It may have resulted in personal injuries, property damages, and in extreme cases, death. But the stress doesn't begin and end at the site of the accident. It can extend far beyond the accident into your personal life and your finances.
If you are in an accident, expect the following:
• Car repairs
• Car rental fees or public transportation costs
• Expensive legal costs
• Increase in insurance premiums
• Medical costs
An auto accident can be extremely expensive and, as a result, could destroy your financial security. There are steps you can take to save yourself from the increased stress and financial loss.
An experienced driver can feel unsure of what steps to take after an accident. Preparing for the eventuality could save you thousands of dollars or perhaps your life. Follow these steps to ensure that you will know what to do if you are ever in an accident.
Be Prepared
No one expects an accident, but some preparation beforehand will help in the crucial minutes after one occurs.
• Carry a first aid kit
• The name and phone number of an emergency contact
• Have your driver's license, registration, and insurance cards available
• Make sure your car insurance premiums are paid on time. You don't want to find out after an accident that your policy was canceled or that you are underinsured. Also, make sure that all drivers in the household and all cars you own are included in the policy.
Move Off the Road
• Check to see if there are any injuries and call 911
• Call an emergency towing service or collision repair, if possible
• If there are no injuries, move your vehicle off the road to prevent posing a danger to others. Take photos of the crash first, if possible.
Call the Police
• One of the essential things required after an accident is a police report.
• Many states require by law that a police report be filed
• It will provide the least biased and accurate account of the circumstances of the accident
• Many companies require a police report be filed within 24 hours for high-risk drivers
• The police report will be useful and probably required for an insurance claim, but if you decide to instigate a lawsuit. It will not be sent to you automatically. You need to request a copy of it from the Police Department.
• If you are unable, the police will contact a towing service
• Document the Circumstances of the Accident
• Gather information at the scene, and keep copies of everything
• Photos of the damage
• Explanation of the accident
• The name, telephone number, and insurance information of the other driver. Having this information will help get your claim filed quickly and efficiently.
• Contact information of any witnesses
• The police officer's name, a copy of the police report, and the police report number. Any information you receive from the police officer may be limited at this point.
• Make sure you provide your insurance company with a copy of the accident report.
Don't Admit Guilt
It is the first instinct of many people to apologize whether they are responsible or not. Do not imply you were at fault, even partially, for the accident. An apology could be misinterpreted as an admission of guilt or fault by the insurance company. You don't want to provide them with an excuse to deny or reduce your settlement.
An administrative lawyer will caution drivers not to admit guilt. Check to see if the other driver is injured, get their information, and have no more interaction. Do not share your driver's license number, home address, or phone number with anyone other than the police. When speaking with the police, do not imply that you were at fault for the accident.
Contact Your Insurance Company
Regardless of the seriousness of the accident, report it to your insurance company is preferable rather than agreeing not to report the incident. After an accident, drivers may immediately agree on some things but change their minds later about where the blame lies. That is why photos of the accident are essential.
Submitting a claim isn't needed just because you have reported an accident. Depending on your insurer and the accident costs, your rates could increase 50% or more after filing an accident claim. If you can, pay out of pocket costs on a small claim to avoid the hassle. How long you have to do this depends on your policy.
Negotiating with your insurance company can be a problem that needs handling. They will do everything possible to reduce the amount of your settlement or perhaps try to avoid paying it at all. They are in business to make money, not give it away.
If you hire an attorney, you will not need to handle the insurance company. The lawyer will negotiate on your behalf to make sure your claim isn't denied or offer less compensation than you deserve.
If you have been hurt in an accident, the prospect of dealing with insurance companies and lawyers can be overwhelming. Don't face eviction. Handle the claim yourself and save thousands of dollars of process. Follow these steps:
• Determine what your claim is worth
• Gather the accident reports and medical records
• Write an effective demand letter
• Respond to common tactics, such as an insurance company delay
• Be prepared to negotiate for a fair and full settlement
• If you decide to hire a lawyer, make sure you have all details available
Handling Legal Fees and What the Lawyers Can Do For You
While saving money is something everyone can do after a car wreck, it may be more financially beneficial to you to have an attorney deal with the insurance company on your behalf.
Some attorneys bill their fees at a flat rate, others hourly or on a contingency fee basis. For example, if you have a 33% contingency fee arrangement with your lawyer, if you recover $90,000, your lawyer will receive $30,000 of that settlement.
Regardless of how they bill for their services, there is typically room to reduce the fee and save money. But there are some expert attorneys that may not be willing to reduce their fees.
It would be best if you discussed with your attorney the contingency fee. Carefully review your contract with him outlining the legal services he or she will provide. If you do not understand the fee arrangement outlined in the contract, ask your lawyer to explain it.
In addition to legal fees, you may be required to pay costs associated with the legal representation. Fees such as sending papers to the opposing party or the cost of filing papers with the court may be required. Often, lawyers will require money down in the form of a retainer.
While attorney's fees are not cheap, you will probably require one after an accident. To save on legal costs, document everything you can at the accident site. Not only will this ensure you have evidence to support your case, but your attorney will not need to dig for this information adding to their fees.
When choosing a lawyer, make sure you contact personal injury lawyers, not lawyers for optometrists, for example. You will need someone who has experience and knowledge in dealing with automobile injuries to help you receive the financial settlement you deserve.
Your lawyer will help calculate the settlement amount you need to cover your expenses, such as medical costs. They will use the documents and records you have collected as evidence of your damages due to the accident. They will be sent to the insurance company along with a demand letter.
If the insurance company rejects your demand or counters with an offer that is too low, then the lawyer will file a lawsuit on your behalf against the at-fault party. A car accident lawyer is invaluable when dealing with an insurance company.
The insurance company may ask that you give them a recorded statement of the accident. They may claim this is a routine procedure after an accident. They may be trying to get you to agree to their version of what happened, which will lead to your getting less compensation than what you really deserve. If they ask for this recorded statement, you can refuse or agree to provide a statement only if your lawyer is present. This prevents them from manipulating your words for their own good.
You don't want to accept the first offer an insurance company presents to you. The main reason being that their initial offer is likely going to be too low. You may not know the full extent of all the expenses you will face at this point. If your injuries worsen and you require further treatment, the first offer from the insurance company may not cover them.
Make sure your attorney is involved so he or she can more accurately determine the amount of compensation you should be receiving. You should wait until you know for sure that your condition has stabilized to the point where you know it will not get worse prior to accepting a settlement offer.
Remember, the best way to deal with an insurance company after an accident is to have your lawyer deal with them for you. Experience and knowledge are needed to negotiate with the insurance company to ensure you get the settlement you deserve. Also, an experienced attorney will not fall victim to any of the schemes or tactics the insurance company will attempt to use to reduce the amount of your settlement or reject it altogether.
Save Money on After-Accident Insurance Premiums
It is almost guaranteed that the cost of your insurance premiums will be increased after an auto accident. Even a single incident can affect your perfect driving record and cause an increase in rates. Most insurance companies will increase your premium automatically whether or not you have reported the accident.
To save money, shop for an insurance company that will offer accident forgiveness. There are some insurance companies that will not have rates as high as others, so switch to a less expensive insurer. You can also reduce the levels of your coverage to save money. However, this will leave you more vulnerable in the event of another accident.
Other Post Accident Financial Obligations
Car repairs, rental cars, medical fees all represent additional costs you could face after an accident. Being prepared with proper coverage beforehand may help reduce some of these costs.
Your medical insurance policy may cover medical fees. If you don't have this coverage, the medical costs could be devastating. In this case, make sure your doctor understands you are paying the expenses out of pocket. Most doctors have fees in place for underinsured patients or patients with no coverage. Also, ensure that you are receiving generic brands of medications.
Car rental companies offer discounts to some individuals such as senior citizens, military personnel, or students. If you fall into one of these groups, you could save money on a rental car. Look online and in local newspapers to find coupons on rentals. Your insurance policy may cover the rental of a vehicle. If you live in an area with public transportation, this may be a more economical option for you.
Towing your vehicle and the repairs are costly. But if you need to get your vehicle in good repair, it is unavoidable. If you are low on cash, discuss the situation with the repairman. Have him repair only the things in the vehicle that will ensure its safety. For example, if the air conditioning is not working properly, perhaps wait to have that repaired and ensure that everything related to the fuel services is in good working order. Some repair shops will work out payment plans if their customer needs it.
While none of us wants to think about being in an accident, it does happen. But if you drive responsibly, do what you can to save money beforehand, such as being adequately insured, it will help alleviate some of the after-effects of an accident, thus reducing your financial burden.