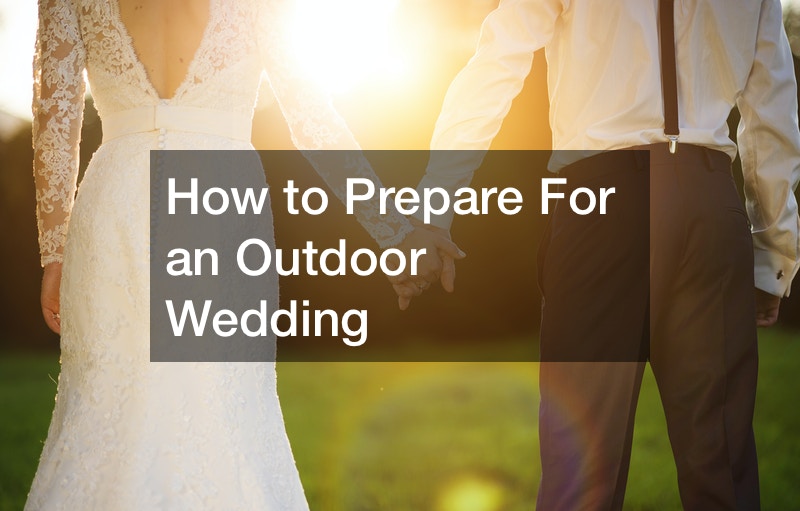 Outdoor marriage ceremonies are incredibly popular these days and are a fantastic way to tie the knot with the one you love. They are relatively complex to plan but can be very rewarding when everything goes appropriately, especially if you plan the wedding yourself and save cash on the process!
That said, there are several steps that you need to take to make sure everything goes as smoothly as possible. By taking these steps into account and doing what you can to ensure things go well, you will have the fantastic outdoor ceremony and reception you want and deserve.
Understand Your Destination
Where do you plan on having your outdoor ceremony? That factor is critical to consider before you spend a single dime on the experience. In addition, you typically want to find a place that feels comfortable for your needs and which has some type of shelter where your guests can go to get out of the weather.
For example, you may want a barn with asphalt shingle roofing that will withstand various wear and tear issues. This barn is an excellent place to put tables and chairs and serve food. Or you could rent a significant rent and use it as an eating destination. The choice is ultimately yours and will vary based on your spot.
If you pick a rented location that already has some kind of place to stay, you can easily find a place to protect your guests during your ceremony and after. Importantly, you want to make sure that your destination also has amenities like a beautiful lawn where you can hold the ceremony.
Ensure that your ceremony location also has easy access to water, kitchen amenities, electricity, and other utilities you need for your wedding. Doing so will cut back on any confusion and ensure that you are satisfied. It also helps with entertainment later in the night.
Lastly, make sure that you pick a spot that is as accessible for your guests as possible. Location is essential, as some might not be able to make it if you're too far away. You'll never please everyone, of course, so just do what you can to help satisfy everyone possible for your wedding situation.
Do Your Best to Manage Weather Problems
There isn't much you can do to predict weather months in advance of your outdoor marriage. However, you can still do what you can to minimize the problems that you might experience in this situation. For instance, you might need to do light repairs on the outdoor seating area to prevent leaks if it does rain.
This type of asset protection is critical because you might easily damage things like your tables, chairs, and even electrical equipment if you aren't careful. You may also want to consider renting a large storage bin where you can easily place your items if the weather starts turning very bad.
And one of those things you didnt know about storage containers is that they can also be converted into a seating area if they are big enough! So some people may find it an exciting solution to rent a storage bin for the afternoon and use it as an inexpensive emergency seating spot if the weather goes bad.
What about if you experience the opposite problem and it's incredibly hot during your ceremony? You should have air conditioning service come to your destination and check to make sure that the units are correctly operational. Or you may need to install new HVAC systems in any facility that you own.
Put up coolers of water throughout the site, adding "cooling stations" where your guests can relax. Add snacks like watermelon and other tasty treats throughout the site to help keep everyone hydrated. And give out fun fans that your guests can use to fan themselves and stay cool when possible.
Ensure Guests are Comfortable
Your guests deserve to have comfortable places to sit, relax, and enjoy your ceremony and reception. This fact is fundamental during outdoor marriages because they'll be outside and exposed to the elements. Just a few ways that you can make them more comfortable include how you should:
Invest in Great Seating – Your guests need relaxing and comfortable tables where they can hang out during and after your ceremony. Don't cheap out and rent unappealing folding chairs. Of course, you can still use folding chairs, but you should have padded, comprehensive, and comfortable ones instead.
Keep Doors Strong – If your guests need to relax in a barn or garage during the wedding, you need to consider high-quality repairs and garage door installations to keep these areas safe and protected from various issues, such as bugs and heavy UV rays spread and much more.
Unique Bar Styles – You can utilize basement bar designs and other concepts to make your destination outdoor ceremony a more exciting experience. Try to integrate a myriad of different drink types and comfortable seating spots that help to make this destination more comfortable and relaxing.
Water Management – If it does end up raining during your ceremony and your guests have to run to hide in shelters, you must make sure that your gutters are in great shape. Doing so will help to ensure that nobody gets a sudden dump of water on their head while they're trying to stay dry.
Put Down Comfortable Floors – Outdoor marriage ceremonies may be uncomfortable for some people over an extended period. This discomfort may occur because they stand on dirt and uneven ground for hours at a time. Put down temporary flooring to help support their ankle and foot strength.
Provide Changing Areas – Your guests are likely to want to change out of their more formal wedding dress during the reception and need a place to do so. Even a few portable toilets are helpful here, though some people may find them too small. Try to rent a small area where they can change.
In these ways, you can help make your marriage a more enjoyable and comfortable situation for all involved. Don't forget that there are still many other things that you need to consider before you move on to more detailed planning. Understanding your options will make this experience easier to execute.
Find Great Outdoor Entertainment Options
When holding an outdoor marriage ceremony, it is vital to make sure that you find entertainment for your guests. They need to be adequately entertained to ensure that they enjoy your ceremony and the reception. After all, there are only so many times you can share the same few stories.
For example, you'll need some kind of music to provide entertainment for your guests during the reception. You can hire a DJ to play your favorite songs and create a diverse array of different dance opportunities. Doing so will help to make this experience more enjoyable for you and everyone.
Or you can consider hiring a band who can perform live for you during the reception and even a little during the ceremony. A live band is fun because they can play requests and add their own touch to various songs. However, they do cost more than a DJ, so be prepared for that potential.
That said, you should also take advantage of the outdoor setting with fun outdoor games. Horseshoes, corn hole, and much more are all fun ways to engage outside. You may also want to rent a bounce room or a similar play area for kids to keep them entertained and avoid potential conflicts.
Bring a football, baseball, and a basketball, as well, and set up fun areas where more energetic people can engage and have fun. Be aware, though, that these kinds of sports may end up getting rough and could cause some conflict. Try to emphasize that sports are fun and shouldn't be taken too seriously. Doing so can help to combat any hard feelings caused by competitive sports.
Protect Your Food From Pests
One of the more frustrating things about an outdoor ceremony is pest invasions that could affect your food. Your guests deserve healthy and tasty food without mosquitoes or flies invading their space. Just a few ways that you can keep your food protected and your guests satisfied include:
Put Up Bug Nets – Place various nets up around your dining area to keep out mosquitoes and other pests. These nets often have automatically snapping connectors that use magnets to keep them tightly shut. This option should help with most bugs but may not get rid of all of them without extra help.
Bug Zappers – Try to keep any bug zapping equipment out of sight of your guests or somewhere that isn't blatantly obvious. You may also want to keep it away from your food so that no bugs fall inside. Usually, these are well placed around the perimeter of your nets near spots where bugs may invade.
Pest Repellents – Put up various sound repellents or odorizers that help spread a smell that bugs hate. Often, these smells are pleasant to people and can be used as a unique way of making your ceremony more enjoyable. Try to find scents that you know people will enjoy.
Food Guards – Make sure that you place your food indoors and place various guards on them when not in use. Covers help protect your food and trap heat, ensuring that it stays warm throughout the reception and appetizing to your many guests throughout the day.
Pest Control Treatments – If you're worried that your ceremony and reception will have a large number of bugs, you might want to get professional pest control. These experts can carefully adjust your treatment method to be as safe as possible and even use natural repellent options.
Animal Control – Are there animals like raccoons, birds, and other pests that could invade your ceremony? Talk to animal control to get them relocated. These experts will trap these animals safely and put them in a spot that is more conducive to their survival and thriving.
These steps help to make sure that your guests are as protected as possible from annoying pests. But, just as importantly, it protects your ceremony from unwanted invasion by other creatures. In this way, you can get the fantastic experience that you want and deserve without spending a lot of money.
Don't Forget Lighting Needs
You likely think that your outdoor ceremony doesn't need a lot of lighting. And for the most part, you are right. However, your indoor areas may need a little extra light, even if you have a large open door and windows. And as the reception rages on, you'll need some lighting as it gets dark.
As a result, you'll need to put up things like various types of lamps, hanging lights, twinkling light bulbs, or even decorative and temporary chandeliers. Doing so will help make it easier for you to decorate this area and minimize any potential injuries.
Make sure to create attractive lighting to ensure that it appeals to everyone. This step involves matching up your lights to the color scheme of your ceremony. And it also requires you to pay attention to where your lights are located and how well they light up your areas.
For example, make sure that the outdoor toilets and restroom areas are fully light up to minimize confusion. Your guests need easy access to these areas, as they'll be enjoying food, drink, and dance, and may need to head to them periodically to handle their needs.
As you can see, planning and executing this type of outdoor ceremony for your marriage takes some planning but is by no means impossible or too difficult. By understanding these steps and getting help from family members and friends, you can easily set up this situation, no matter where your event occurs. So find a spot that appeals to you and get planning for your great new life with the one you love!