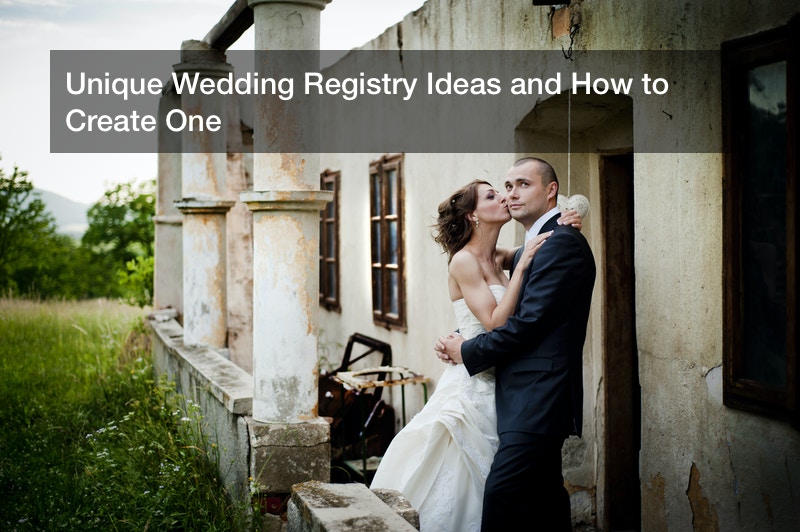 Did you know that around 2 million Americans get married every year? It's no wonder that many people choose to take this solid oath with someone they love. When you're married, you have someone in your corner for life — throughout sicknesses, stressful moves, and tough situations at work.
Many of those couples also sign up for a wedding registry before their wedding. Doing so makes married life easier once they have moved in together. However, creating the list can often feel overwhelming. You may ask yourself — what kinds of items do you put on your list? What if you already have everything you need? If you're in need of some wedding registry inspiration, continue reading. Here are tips on how you can create a unique wedding registry before your big day.
Cooking and Kitchen Related Items
Every new couple will need to acquire this skill. Having the right tools in the kitchen can make learning so much easier. Consider putting these items on your unique wedding registry.
An Air Fryer
An air fryer is taking the health and cooking world by storm due to its ability to fry foods using only a minimum amount of oil.
It's a healthier way of eating, and there's no annoying mess to clean up afterward. Therefore, if you and your spouse love to cook together, ensure that this item is at the very top of your unique wedding registry. Your guests can find this machine at most shopping centers.
Blender
A blender on a registry sounds boring. How is this a pick for a unique wedding registry? Get a blender like a Vitamix. This is more than just a standard blender. It's a kitchen tool that can help you create soups, dressings, and sauces. You won't need as many cooking utensils, which is great news if you want to keep your wedding register on the shorter side.
Exotic Wines
You may not splurge on fancy wines on your own, but if you love to pour yourself a glass every now and then, make sure to put some world-renowned wines on your list. You can drink them with your spouse, or pour a glass for your guests when you're entertaining.
Bar Cart
If you don't necessarily love wine, but adore other spirits, consider adding a bar cart to your list. This is another way you can entertain guests. You will also upgrade your bartending skills since you'll have all of your liquors, beers, and wines all in one spot.
A Cooking Class
If you value great experiences over tangible things, ask your guests to buy you a cooking course for you and your future spouse. This can serve as a great way for the two of you to bond — either before or after the wedding.
You will also learn some great skills that you can take with you for the rest of your life.
Kitchen Remodel
If you feel like your kitchen is ancient, ask your guests to put the money that would have gone on a registry list towards kitchen remodeling.
Items to Live a More Active Lifestyle
If you met your sweetie while hiking or biking, it's safe to say that the two of you are an active couple! Keep that high level of activity going, even after you're married. Put these sporty items of your unique registry.
Golf Equipment
If you and your future spouse are avid golfers, ask for some new golf equipment! If you think you'll use this more than a blender, put it at the top of your list and don't let your guests' money go to waste.
Snowmobile Equipment
However, golf may not be everyone's favorite sport. Others may enjoy being outside in the cold weather. Sledding, skiing, and hopping on a snowmobile is the perfect way to spend a weekend up in the mountains. If you can't get enough of the slopes, ask your wedding guests for snowmobile equipment instead of hand towels.
Camping Gear
If camping is your preferred activity as a couple, put this at the top of your unique wedding registry list instead. You can ask for sleeping bags, tents, or a new pair of waterproof boots.
What to Ask For When You Don't Know What to Ask For!
Even after reading all this, what if you're drawing a blank? The wedding is coming closer and closer with each passing day, and you're unsure what to put on your unique wedding registry list!
Take a deep breath and stop worrying! Many couples ask for alternative things. Instead of objects, they may ask for money instead!
A Down Payment on a Home
If you're unsure what to place on your unique wedding registry, ask for money to fund the downpayment on your future home together. This is more common than you think, but many people still feel odd about asking for cold hard cash. There are a few ways of phrasing that you will not be needing a toaster.
If you choose to go this route, ensure you add it to your wedding website. It may be tacky to add it to your invitations, so make sure to go the digital route.
Other Funds
You will also be glad to learn that your wedding registry can also help fund other expenses. Asking for money before the wedding can help buy an engagement ring for your significant other. You won't have to worry about financing it or completing your monthly payments. This can also be helpful if you and your significant other already own a home.
Fund Your Honeymoon
What's another way you can swap your unique wedding registry for something you will actually use? Have that money go towards paying off a nice honeymoon for after the wedding. Book fun excursions, and even go visit a craft beer company tour to make the most out of your stay.
Couples Massages
Planning a wedding can be so stressful. Between booking a caterer, finding a venue, and making a million other tiny decisions, it can take a toll on your mental health. If you need to destress, consider asking your guests for money towards a destressing retreat for you and your loved one. The two of you can book spa treatments, like facials and couples massages.
Go Traveling
If you can afford to take a couple of months off of work, consider extending your honeymoon. Go see all the sights you've been dying to see. Ask your guests to help fund a magical trip with your spouse. This is appropriate for couples who are already living together and have everything they need in their home.
Take a New Language Course
Learning a new skill with your partner is enriching, useful, and a ton of fun! If none of these ideas are intriguing to you, consider asking your guests to put money towards language courses.
Help With Debt
Wouldn't it be amazing to have all of your debt vanish? Put this money towards student loans or house payments!
Ask Your Guests to Help Fund a Home Remodel
Let's say you already own a home with your loved one. But perhaps, it's starting to feel a bit cramped. If you're planning on extending your family, this feeling will be exacerbated. If you worry about this, ask your family and friends to put their money towards helping you remodel your home. Home additions are popular since they provide you with more space without you having to move to a completely different house.
Ask them to Fund Small Projects
However, let's say you want to give your house a much smaller makeover. You don't have to add rooms to freshen up the home. Add quartz counters for a modern touch.
Turn Your Wedding Registry Into a Baby Registry
If you have just had a baby, consider combining your registries into one! Ask for bibs, baby clothes, diapers, and formula.
How to Set Up Your Unique Wedding Registry
Now that you know what you want on your list, it's time to set it up. You don't have to be a tech wiz, as it's simple and easy to do.
Start by creating your list as soon as you get engaged. This allows your guests enough time to look through and see what has been purchased and what has not been purchased. If they want to buy you something extravagant, this also gives them sufficient time to save up some money for your unique wedding registry.
Next, ensure your significant other can be there when you're creating your registry. It's a joint activity, and you should both have a say in what goes on the list and what stays off.
Common Questions About Unique Wedding Registries
Can You Register at Several Stores?
One of the best ways to create a unique wedding registry is by setting up a registry at several stores. This isn't out of the ordinary, so if you want a nice frying pan, but also need a tent for your couples camping excursions, try this method!
Can You Return Items?
This is another common question about setting up your unique wedding registry.
If you don't love one of your items, can you return it after it's been bought? The answer? It depends! Make sure to check the specific store's policy on returns before adding them to your list.
How Much Should Guests Spend?
The average guest will spend around 100 dollars on a wedding gift. Keep this in mind when creating your registry, as you don't want them to over or underspend.
How to Alert Guests of Your Wedding Registry
Create an online register. Once it's up and running, grab the link, and create a special tab on your wedding website. When inviting your guests, make sure they can easily view the link through their web browser.
Will Guests be Offended if We Just ask for Money
Your guests have no reason to be offended if you turn down some gifts. If you already have silverware and mixing bowls, why would you need another pair!
Make sure that they know this ahead of time.
Should You Update Your Registry?
One of the most brilliant things about having an online registry is that you can see who is purchasing what! If you notice that relatives have bought most of the items on your list, and you still have a few months left before the wedding, feel free to add more until your big day.
Conclusion
Your unique registry list all boils down to your combined personalities. What do you think will suit your lifestyle now that you are married? Whatever the case may be, make sure the list is reasonable! Additionally, ensure it's something that you will enjoy, whether you're remodeling your house with custom window coverings, or feel that golf gear is more suitable. Nonetheless, if you plan your wedding registry accordingly, you and your significant other will feel even more excited about the wedding and your future together.
Related: ace kitchen place bridal registry, adventure wedding gifts, amazing wedding gifts, amazon wedding stuff, artistic wedding gifts, artsy wedding gifts, at home store wedding registry, bed bath and beyond registry gift tracker, best items for registry, best luggage for wedding registry, best places to do your wedding registry, best places to register for housewarming, best places to register for wedding 2020, best stores for bridal registry, best things to put on your wedding registry, best universal wedding registry, best wedding gift websites, best wedding gifts to send by mail, best wedding registry list, bridal shower registry checklist, check wedding registry.